Every year, we take the pulse of the transit industry in our State of Public Transit report by analyzing millions of data points and surveying transit professionals on their greatest challenges and opportunities.
In this year's State of Public Transit report, we found the industry in the midst of a revolution. Agencies are racing to catch up with passengers' expectations for a connected world, and the industry is ready for these expectations to turn into reality.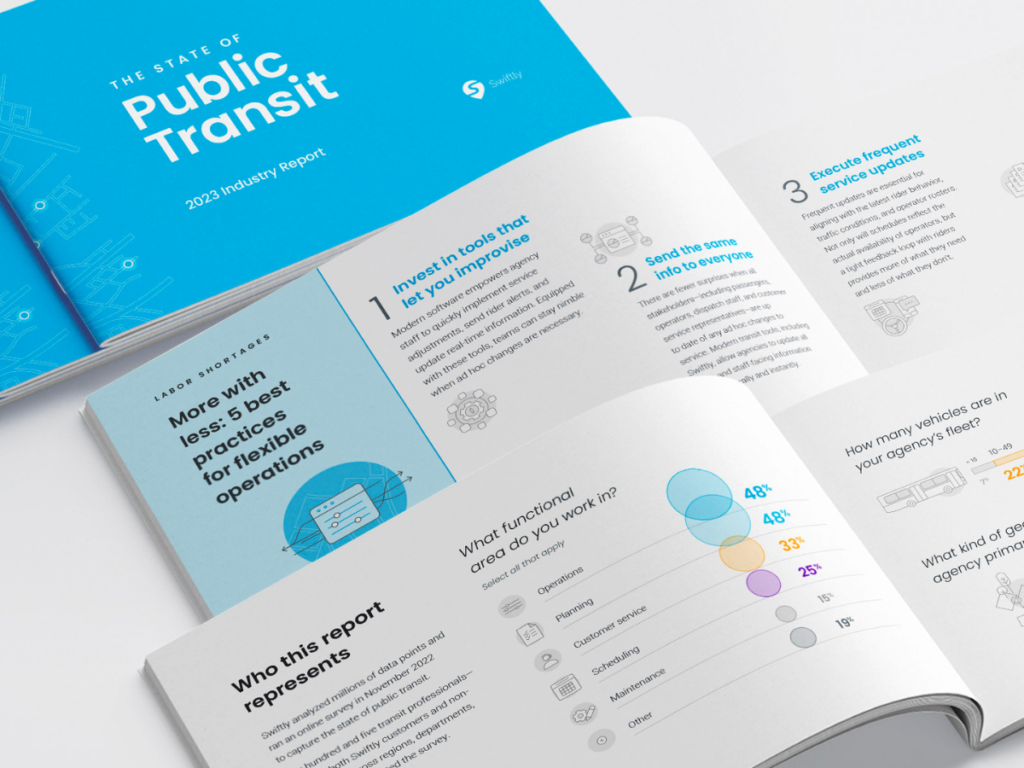 Against this backdrop, we dug into public transit's most important topics for the 2023 State of Public Transit Report. Read on for a preview and fill out the form for the full report.
1. Capital Projects, Clean Energy Vehicles, and Onboard Tech Improvements Are the Three Most Common Projects Receiving Infrastructure Bill Funding
The infrastructure bill is already redefining public transit, with agencies receiving a record $21 billion in federal funding in 2022. Agencies received funding for capital projects, service expansions, maintenance backlogs, and innovation projects. However, many agencies are still struggling with budget shortfalls.‍
2. 71% Of Agencies Have Canceled or Delayed Service Due to Labor Shortages, Even More than in 2021
Labor shortages are nearly universal among agencies, and they're impacting service reliability and staff morale. Our survey showed a variety of root causes for these shortages – everything from hiring competition to outdated drug test requirements – as well as the negative effects of shortages growing year over year. And while shortages don't seem to be going away anytime soon, best practices are emerging to stay flexible and do more with less.‍
3. 45% Of Agencies Take over an Hour to Investigate a Customer Complaint
At a time when empowering agency staff with modern technology is more important than ever, we found that transit professionals are dissatisfied with several core elements of their transit technology. What changes would they like to see? Better interoperability between systems, streamlined user interfaces, and fewer resource-heavy implementations.
4. 67% Of Transit Professionals Believe Procurement Needs an Overhaul
Transit professionals overwhelmingly see the process of procuring new technology as a barrier to improving transit service.  We found that streamlined procurement processes hold the key to making technology work for staff and passengers. We also include guidelines to update RFPs to focus on rider outcomes.
5. 62% Of Agencies Report Using GTFS-rt for Day-To-Day Arrival Predictions
Transit data standards are improving service reliability, with GTFS-rt leading the way. What other opportunities are on the horizon? We took a snapshot of how agencies are using data standards today, along with a few detailed case studies from pioneers like Massachusetts Bay Transportation Authority, Cap Metro, and VIA San Antonio.
Join the Conversation
We'll be holding a live session with transit industry experts to discuss the findings of the report on 2/15. Register for the webinar to hear first-hand from transit experts on how the trends spotlighted in the report are impacting agencies today.
We expect the topics highlighted in the report to remain at the forefront of the conversation in the transit industry throughout the year. Stay tuned as we dive deeper into the findings of the report in the future.
This article was originally published by Swiftly.