Nanov Display Unveils Latest Line of Transit Monitors
Nanov Display unveils the latest in its line of Transit Monitors – the most recent model is a 46″ LCD that can be ceiling-mounted for any transit setting. Furthermore, the model can be welded or bolted to be more resilient to the possibilities of wind or rain. This model comes in both single-sided and double-sided versions.
As with all Nanov signs, this VMS Transit sign follows UL48 outdoor sign compliance, extensively evaluated to be impervious to dust and rain, among other climate challenges. With built-in IP camera networking and 4 alterable ports, as well as a Windows 10 embedded computer, this model has a variety of customizable possibilities.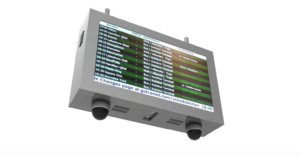 The outdoor model is maintenance-ready, with connection to a remote maintenance UL-certified environmental controller – allowing for realtime data analysis, adjustments, and regulations from the office. Our user-friendly Dash Board, and can control a variety of components within outdoor signage ranging from the Fans, Heater, Temperature, Humidity, Modems, Computer, and the LCD Panel itself. The NRMCB-10 can track and indicate any disruptions within the Power Sequence – by checking and displaying the status of the Computer booting time, Video input signal time, and Modem booting time. Additionally, when the modem does not respond, an automatic alert can be setup, as well as an auto reset of the modem or system Furthermore, embedded IP surveillance cameras can collect data for counting the number of viewers each day, as well as providing an extra level of security through separate IP networking.
While competing outdoor LCD signs have seen failures due to climate challenges – leakages, condensation within the enclosure, salt erosion, overheating black blotches, power sequential booting – Nanov has managed to design and create products that can withstand these issues. A lifelong company mission has been to build durability into the LCD screens, with features like laminated anti-reflection protective glass and vandalproof touchscreen glass. Or proper cyber security encrypting and information protection, to avoid the hacking of important transit passenger information. Our latest feature is the exciting, and recently patented, design that inconspicuously hosts our ventilation system.
For resilient ceiling mounting and easy maintenance, this VMS Transit Monitor outshines all others with exquisite clarity and high brightness, and Nanov will be exhibiting this model at this year's UITP. Held in Stockholm, Sweden from June 9-12, 2019, this year's Global Public Transit Summit, or UITP, is the largest event dedicated to sustainable mobility. Nanov Display is delighted to be exhibiting our outdoor LCD designs built for the transit industry.
To learn more information about the event, check out UITP 2019 on their website.