Milan Orders Additional Metro Trains from Hitachi Rail Italy
Hitachi Rail Italy yesterday announced that it has been awarded a contract, signed February 8th, worth €106 million from Azienda Trasporti Milanesi (ATM) to manufacture an additional 15 "Leonardo" metro trains for the city of Milan.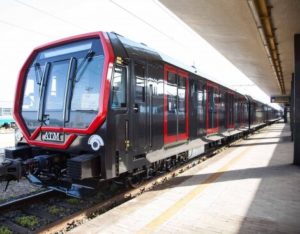 This contract, final option of the framework agreement for 60 trains signed in 2012, concerns the delivery of 9 trains for Line 1, and 6 trains for Line 2 of Milan metro. The trains will be built at Hitachi Rail Italy plants in Reggio Calabria and Naples.
Deliveries will be completed by April 2019. ATM ordered 30 trains (20 for Line 1 and 10 for Line 2) in 2012 with a value of 209 million Euros, all of which are already in operation, and 15 trains for Line 2 in 2016 for 109 million Euros, which are currently being manufactured in the Hitachi Rail Italy plants of Pistoia and Naples.
Maurizio Manfellotto, CEO of Hitachi Rail Italy, said:
"We are delighted that once again ATM has shown their confidence in Hitachi by exercising their final option for these 15 trains"

"Our state-of-the-art trains have been providing the best service to the travelling public in Milan, and were delivered on time and budget to ATM".
Please click here for the original article.