Lithuanian Railways and DB Cargo Rail Polska Sign Rail Freight Agreement
Lithuanian Railways and DB Cargo Rail Polska (DB Cargo company in Poland), have signed an international rail freight agreement to take effect across the Polish-Lithuanian state border. The agreement will ensure effective co-operation when transporting goods between Poland and Lithuania, as well as further afield.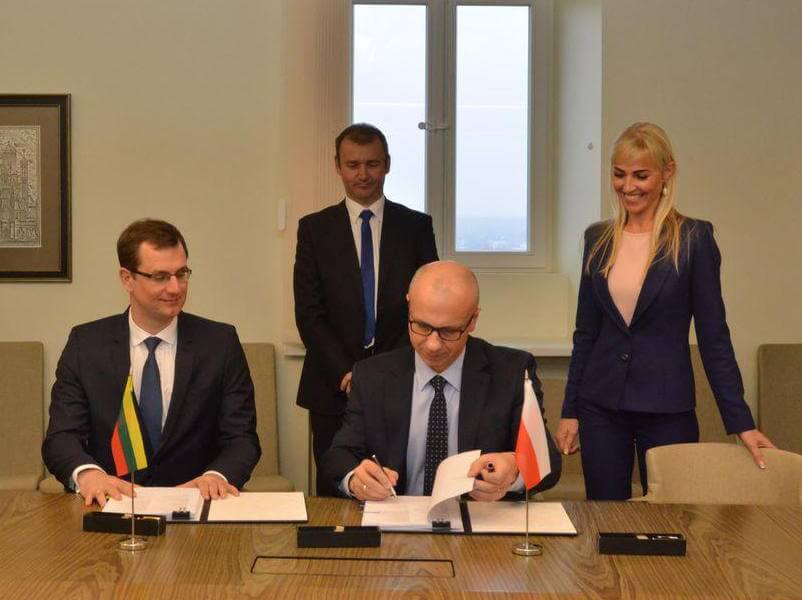 Lithuanian Railways General Manager, Mantas Bartuška, said:
DB Cargo is an important partner for us. We share a common goal – to transport goods safely, quickly and reliably. We seek to develop the existing cargo infrastructure from the the port of Klaipeda towards the EU market.
DB Cargo Rail Polska Chairman, Marek Staszek, added:
We hope for mutually beneficial cooperation in increasing the volume of freight from Lithuania.
The signing of the treaty included discussions for other joint projects such as transporting fertiliser and rapeseed oil, intermodal transport between China and Europe as well as other issues.
DB Cargo Rail Polska
DB Cargo Rail Polska is among the leading rail freight operators in Europe. The company belongs to the German transport and logistics giant Deutsche Bahn. DB Cargo Rail Polska carried 57.5 million tons of different types of cargo in the previous year. The DB Cargo Rail Polska traction rolling stock fleet consists of more than 250 locomotives and over 4000 wagons.
North Sea-Baltic Core Corridor Network
This 3200 km corridor will connect the port of Tallinn on the Baltic with ports on the North Sea. Baltic Rail is the most important project on this corridor. It seeks to develop a standard gauge railway between Tallinn and Poland, via Riga in Latvia and Kaunas in Lithuania. In Lithuania, it was decided to install a dual gauge 1435/1520mm track between the Polish border and Kaunas (in central Lithuania) rather than construct a new 1435 mm direct line. Part of the Rail Baltica project is to make Kaunas the gateway to Europe. One of this corridor's branches goes to the port of Klaipeda.
Original article © Lithuanian Railways with additional information by the Railway-News editorial department.
FOR ALL THE LATEST INFORMATION, NEWS, IMAGES, VIDEOS AND ARTICLES ON ALL ASPECTS OF INFRASTRUCTURE, PLEASE CLICK HERE.