intreXis: A New Definition of High Performance DC-DC Converters for Railway Applications
The intreXis Boardnet Converter Platform is the new definition of high-performance DC-DC converters in the power range of 50 to 500 W. With the ultra wide input voltage range of 14.4 to 154 VDC and up to 96% efficiency, the new intreXis converter generation sets a new benchmark for high performance DC-DC converters for railway applications.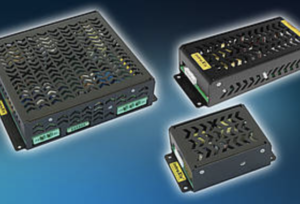 High Performance DC-DC Converters for Railway Applications
Limits redefined: the intreXis engineers have proven this impressively. The ultra-wide input voltage range allows these DC-DC converters to be used in rail applications with all nominal voltages (24V, 36V, 48V, 72V, 110V) without switching or configuration change. The full power is available in the entire temperature range of class OT4 + ST1, ST2 from -50 to + 85 ° C according to EN50155, without derating and without fan!
This is possible due to the impressive efficiency of 96.2% at 110 V and 92.5% at 24 V input voltage *. With a galvanic isolation of 3300 VAC, active inrush current limiting, 10 ms hold-up time and extremely low weight of only 1.3 kg for the 500 W device, the new converters of the intreXis Boardnet Converter Platform are ready for use in the most demanding railway applications.
A full range of different output powers (50, 75, 150, 300 and 500 W) and output voltages (5, 12, 15, 24, 48, 52 VDC) provide the optimal solution for most applications. In addition to the devices with an output voltage, dual output devices with ± 24 VDC and ± 15 VDC are also available. With these dual devices, current sensors and other consumers that require a bipolar voltage can be optimally supplied. All devices of the intreXis Boardnet Converter Platform already contain all necessary filters and are 100% compliant with EN50155 without further external wiring.
intreXis – power supplies with the X 
Xtra high efficiency: 92.9% (IC273 @ 66% load)
Xtra wide input voltage range: 14.4 – 154 VDC
Xtra wide temperature range: -50 – +85 ° C
Xtra flat (21 mm) and light (98 g)
Xtra robust and reliable
IntreXis
intreXis Power Supplies boasts a comprehensive portfolio of advanced Power Supplies for transportation and medical applications. Ranging from 10W up to 1000W output power, intreXis Railway Power Supplies are widely used; from control and rail automation systems to video surveillance systems, communications systems, e-ticketing systems, and passenger information systems. Whats more, intreXis AG is one of the world's leading providers for Power Supplies used in high-capacity applications worldwide.
Power Supplies Swiss Quality!
intreXis Power Supplies are manufactured on fully automatic SMD machines. Each circuit board is already checked during the production process with automated optical inspection (AOI) for possible errors. Our production facilities in Malaysia, Romania and Switzerland work to the highest Swiss quality standards.
The computer-controlled function test systems are developed and programmed by intreXis-engineers. Each power supply is tested extensively before delivery on these test systems and all measured values are stored.