Customised Railway Power Supplies from intreXis
When your system's power needs cannot be addressed by Standard products, intreXis can utilise its world class power design capabilities to provide a solution specific to your requirements, giving you the optimal customised power supply unit.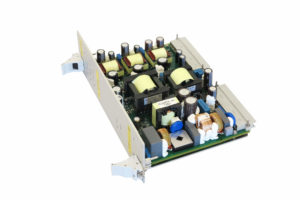 Customised AC-DC Converter
The latest customised design is the AC-DC Converter IC225. The Converter is constructed for Rack-mounting and is 6U high. With an AC Input range from 230 to 400 VAC, 4 galvanic isolated output voltages and a peak output power of 460 W, this Converter is the perfect solution to power the railway control centres of our customer reliable!
intreXis is one of the leading custom power supply unit designers and manufacturers of high efficiency and high power density power solutions for a variety of markets including Transportation, Industrial, Automation, Medical and Telecom.
Their low risk approach leverages, proven technology platforms and building blocks ensure that they meet cost and performance specifications, without compromising the time-to-market for your own product launch. Their people and processes are set-up to act as an extension of your internal resources, working as your trusted and expert partner at all stages of the project; refining the power specifications in order to ensure optimal cost/performance trade-offs, eliminating potential ambiguities and highlighting any areas of risk associated with your project.
Are you looking for a Power Supply with special requirements? Contact intreXis for a consultation today!