HS2 Ltd has signed a contract with main works civils contractor Skanka Costain STRAVAG JV (SCS JV) for the first two tunnel boring machines to start on the HS2 project.
The 13-mile twin-bore London tunnel between Euston and West Ruislip will be bored by six TBMs in total. These first two will work their way eastwards from West Ruislip, creating the Northolt tunnel west. Both machines will tunnel five miles and eventually meet the two TBMs tunnelling westwards from Old Oak Common. They will be extracted at that point – Green Park Way in Greenford – and the site will then be made into a vent shaft.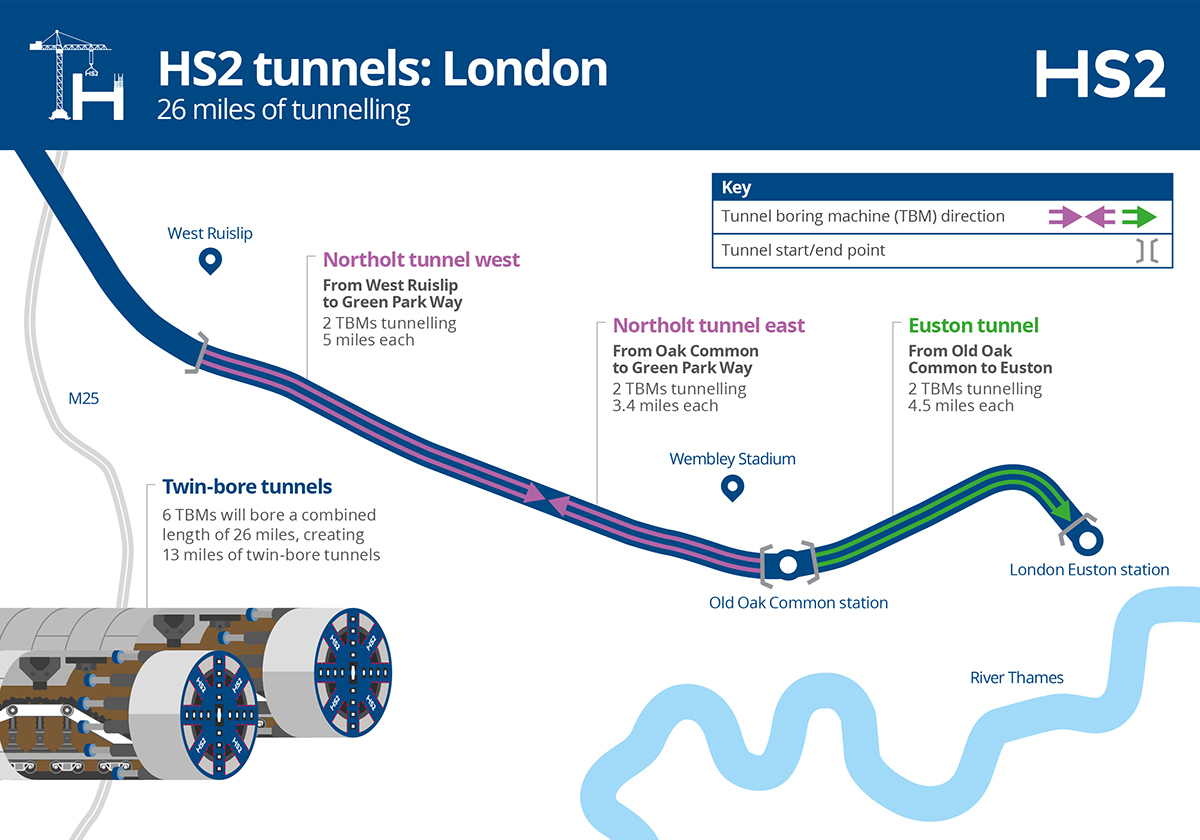 German TBM manufacturer Herrenknecht is producing the TBMs and will deliver them by the end of 2021. They will be assembled and begin their tunnelling work in mid-2022. They will be active for 22 months and complete their section in 2024. They are being designed specifically to tunnel through London's clay and chalk.
HS2 will have 32km of tunnels – 64km in total length due to their twin-bore nature. A total of ten TBMs will deliver them. The London tunnels will start at HS2's London terminus at Euston and continue for 4.5 miles before the railway line surfaces at Old Oak Common in West London.
"HS2's London tunnels will help ensure many homes and habitants in the capital remain undisturbed. This is a key part of our commitment to deliver Britain's new high speed railway in the most environmentally-friendly way and minimising disruption to our neighbours.
"Building HS2 will showcase Britain's world class capabilities in tunnelling. The procurement of these incredible machines is an exciting step towards the construction of the London tunnels, which will involve them working 24 hours a day, seven days a week."
Each tunnel boring machine will be 140m long with a cutter head measuring 9.84m in diameter and weighing 2,050 tons. They will excavate 1.2 million cubic metres, weighing 2.46 million tons.
"Work is already underway to prepare for the first tunnel launch in 2022. Throughout these and all our activities we are committed to involving local communities and stakeholders and supporting social development and employment through the 4,500 jobs that will be created."
HS2 Ltd still has to commission the remaining TBMs that will work on the project.
Also read: