How Innovative Current Collection Solutions Can Help Train Manufacturers
Over the last 40 years the rail industry has seen significant changes in structure, operation and technology. One of the biggest changes has been the move away from dependence on diesel as the main motive fuel and the increasing electrification of railway networks, leading to train manufacturers looking for innovative solutions in the area of current collection.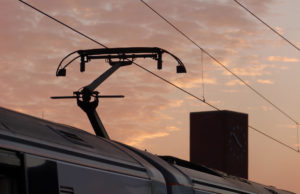 Today, the pantograph, a familiar sight on top of rail vehicles, is designed to allow travel at high speeds without losing contact with the overhead catenary lines. The pantograph arm pushes a contact shoe up against the underside of the power cable drawing the electricity required to power the train. Typically, compressed air is used to control the basic raise, hold, lower and fast-drop functions of the arm.
However, demand for additional vehicle or end user-specific functions, such as contact strip wear monitoring, is increasing, meaning it is essential for any OEM designing and manufacturing pantographs to partner with a company that delivers in-depth experience and knowledge, especially of pneumatics.
So what has our experience shown us? It's been highlighted to us that the following needs are critical to the rail market:
Overall reduction in vehicle weight

Increase in available passenger space

Initial acquisition and whole-life cost reductions
Development of new current collection solutions can make a significant contribution to meeting these identified needs.
But where do we begin? Well, the majority of pantograph systems require the availability of a compressed air supply for the first lift after a vehicle outage period. Why? Because the vehicle's main compressors are usually not powered up until the pantograph has an established electrical connection to provide system power. This is normally solved by the use of an auxiliary compressor to deliver this supply. However, this approach has its drawbacks; the main ones being cost of procurement, the amount of physical space required to install the compressor, installation times and the ongoing whole-life costs associated with servicing and maintenance.
How is this problem solved? Simple; eliminate the need for the auxiliary compressor by designing a compact, fully-integrated 'plug and play' control system, containing all the pneumatic functions and incorporating a reservoir.
The newly redesigned main control module system is linked to a 25-litre reservoir, charged during normal operation to 9 bar via a 2/2 solenoid valve contained within the module. The pantograph system draws compressed air for its initial operation from this reservoir. The integrated 2/2 valve is vital for overall system performance. In its de-energised state it retains the reservoir's air charge for up to 5 days, ensuring reliable pantograph operation after moderate outage periods. Cleverly, the provision of a separate external air supply connection allows the system to operate even after extended outages.
As a result, this innovative approach addresses some of the key market needs whilst enhancing whole system performance.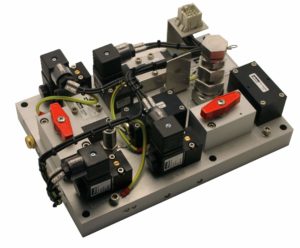 Overall reduction in  vehicle weight – there is now a single plug and play module, designed to achieve all required functionality with a minimum space envelope and weight. The weight of the auxiliary compressor and its associated installation components such as mounts, connectors and tubing are removed.
Increase in available passenger space – the module is now small enough to fit in a reduced space envelope making its installation location more flexible to suit carriage layout. The space required for the ancillary compressor has been eliminated, increasing available space in the carriage.
Initial acquisition and whole-life cost reductions – the initial acquisition costs are now lower and the vehicle initial installation costs are reduced due to elimination of the auxiliary compressor. A side benefit is process simplification, demonstrated by a reduction in the number of component suppliers, orders raised and managed, as well as assembly and testing work because the control unit is supplied fully function tested, ready to just 'plug and play'. All of these factors have a positive impact on the total lifetime cost.
The benefits of a single module approach don't stop at installation and procurement. It's essential in today's modern rail environment that service and maintenance times are kept to a minimum, optimising vehicle operational time and profit. Having only one module that can simply be replaced as a whole unit (rather than individual parts) is tremendously beneficial in terms of servicing and maintenance. Due to its plug and play qualities the system can quickly be decommissioned, serviced, repaired and re-commissioned with ease, resulting in less downtime.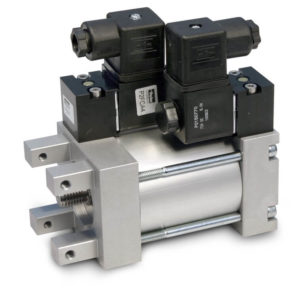 Of course it is important to work with a partner that has experience developing proven solutions to address complicated engineering challenges and has an understanding and long standing reputation in the rail sector. Expertise in pneumatics helps in interpreting customer requirements, enabling creation of solutions across multiple applications that are not only technically advanced but go beyond simply meeting specifications, adding real customer value.
For further information on Parker solutions in the rail sector please visit www.parker.com/rail. Or see us at the Rail Industry Association (RIA) Innovation conference or the SIFER exhibition in Lille, both in March 2017