Hitachi Rail, Alstom and Ceit have together been awarded the tender by FS Italiane to work as a temporary grouping to design and implement ERTMS in four Italian regions.
The four regions in question are Sicily, Lazio, Abruzzio and Umbria. This tender is the first stage of technological projects financed by the 'Recovery Resilience Plan' and will cover 700km of railway line in total. 480km of track covered by this contract are in Sicily, 150km are on the former Umbra Central Railway (Umbria), and 80km are on the Roccasecco-Avezzano line (Lazio and Abruzzo). This framework agreement is worth 500 million euros.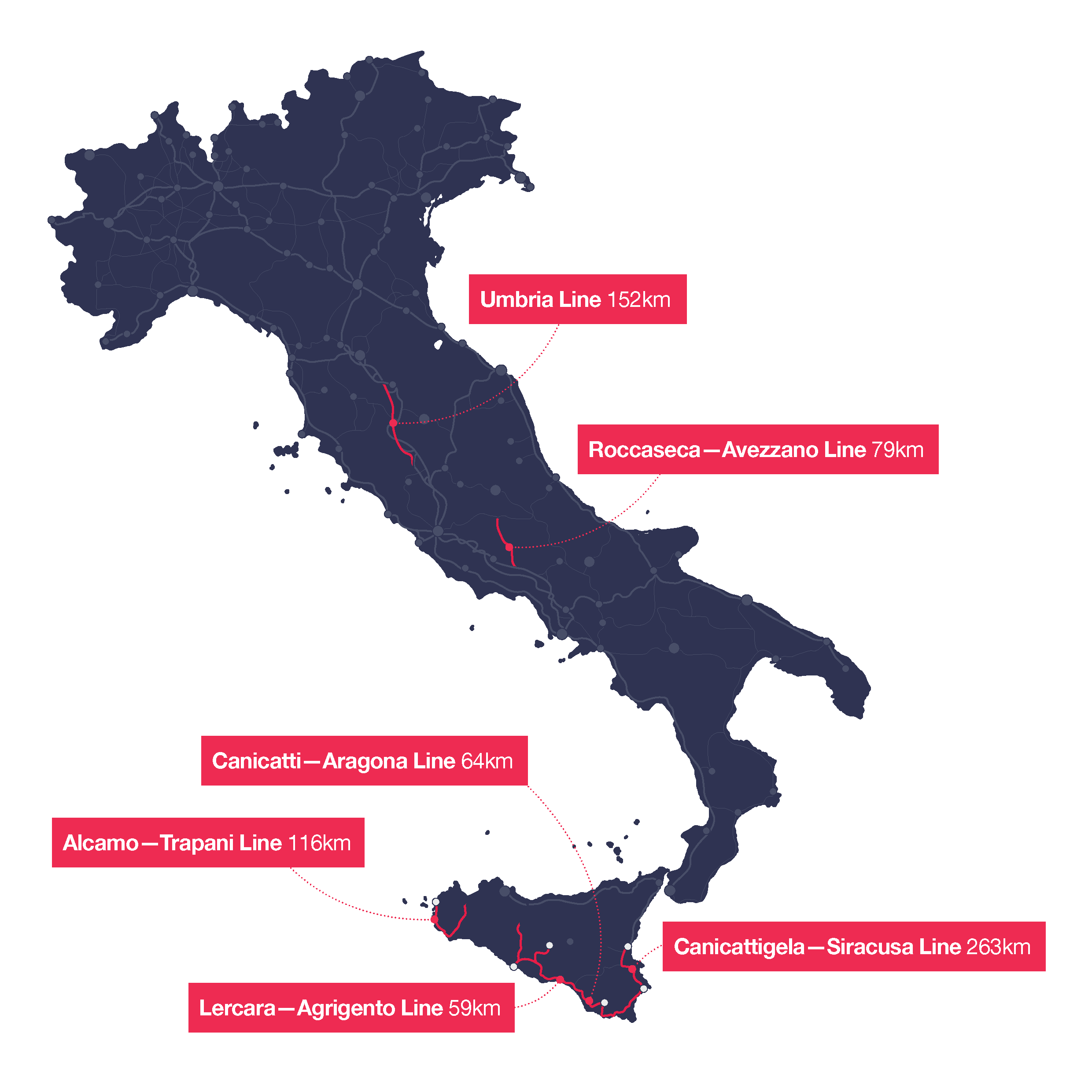 These 700km are the first half of an EU objective to equip 1,400km of railway line with ERTMS by December 2024, financed by the National Recovery Plan. The NRP has set aside a total of almost three billion euros (3.29bn USD) to implement ERTMS on over 3,400km of network by 2026.
This contract means traffic lights will be replaced with digital on-board signalling technology, which will increase line capacity and allow trains to run faster. The purpose of ERTMS is to standardise train control systems in Europe. To achieve this, new automatic train protection systems and new GSM-R radio systems for track-train communication are being installed.
With this technology, trains coming from other European countries will be able to run in Italy seamlessly. Other benefits include reducing the energy consumed by trains by regulating speed and optimising acceleration and braking. ERTMS also means a reduced number of trackside assets.
The work will be carried out by a group of companies led by Hitachi Rail and Alstom Ferroviaria and Ceit as contractors.
Hitachi Rail is the framework lead. Alstom will manage the executive design and construction of the ERTMS Baseline 3 Level 2 signalling system with GSM-R and ACCM on the stretches under its responsibility. Ceit will provide support for yard activities. The system will meet EU TSI standards and CENELEC standards for railway safety.
"We are very proud of this award: the European Rail Transport Management System represents 50% of the first objective set by the European Union for the implementation of technological projects financed by PNRR. This system clearly indicates the intention to extend the benefits of the high speed technological evolution to other type of lines, particularly to regional transport. These benefits are especially represented by the continuous and complete supervision of the operation of trains, through track side equipment. The system will enhance the safety of the railway and allow digital traffic management systems to enable more trains to run on the network, while improving their punctuality at the same time."
"We're proud to have been chosen by RFI for the first railway project financed by the Recovery and Resilience Plan. Today, 30% of ERTMS level 2 lines in service in Europe are supplied by Alstom, demonstrating that our company is a world leader in this field.
"Therefore, we are very pleased with the contribution that our company, a leader in the field of sustainable and smart mobility, will make to Italy. A first major step towards ecological transition."