High-Speed Rail Service Between China and Hong Kong Reaches Milestone
Hong Kong – On 16 August 2018 the Secretary for Transport and Housing announced that the Hong Kong section of the high-speed rail service between Guangzhou–Shenzhen–Hong Kong was found to be fully safe for passenger services after testing.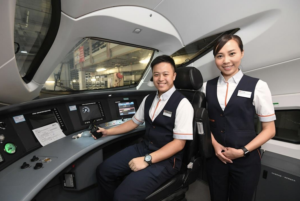 MTR Corporation submitted drawings, test results and quality control documents, all of which were approved, to the government for assessment. This submission assisted the government in inspecting the various rail systems such as the rolling stock, signalling systems and overhead lines). The paperwork also allowed the government to assess the structural safety of Hong Kong West Kowloon Station.
The government's announcement that the railway is 'safe and sound' marks and important milestone for MTR's project. It means all the statutory inspections and tests have been successfully completed.
MTR is now entering the final preparatory phase before passenger services can begin. There are more than 7,000 people working on completing the high-speed rail service. All trial runs of trains between Hong Kong and mainland China have already been completed.
Lincoln Leong, Chief Executive Officer of MTR Corporation, said:
"Safety is of paramount importance to the Corporation. A robust project management framework and a set of stringent procedures are in place to provide for the inspection, supervision and monitoring of the safety and quality of railway works. We thank all the government departments concerned, the contractors as well as our diligent staff members for their concerted efforts throughout the construction and pre-operations stages to achieve the 'safe and sound' confirmation."
Francis Li, Chief Operating Officer – High-Speed Rail, MTR Corporation, said:
"Our colleagues are familiarising themselves with each and every detail to make sure that we are ready to provide a quality travelling experience to our customers."
Simon Tang, General Manager – XRL, MTR Corporation, said:
"Safety and quality have been our top priorities during the design and construction of this railway project and we overcame many challenges to bring the new rail link to fruition. For the final weeks leading up to the service commencement of the HSR, we will continue to work hand in hand with the operational team to ensure a smooth opening in late September 2018 ."
On the weekend of 1 and 2 September 2018 the public will be able to take an advance look at Hong Kong West Kowloon Station before the high-speed rail services goes into operation. There will be photo and game booths to introduce the main aspects and advantages of the high-speed service.