New Definition of High-Performance DC-DC Converters
The intreXis Boardnet Converter Platform is a new definition of high-performance DC-DC converters and is now also available in the 150 W class. With its ultra-wide input voltage range of 14.4 to 154 VDC, 150 W power, highest efficiency and 10 ms Hold-up, the new intreXis converter generation sets a new benchmark for DC-DC converters.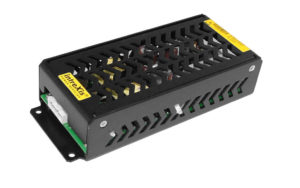 High-Performance DC-DC Converters 
Limits redefined; this is what the intreXis engineers demonstrated impressively. The ultra-wide input voltage range allows the use of these DC-DC converters in railway applications with all nominal input voltages (24V, 36V, 48V, 72V, 110V) without changing the configuration. The full 150 W power is available throughout the temperature range class TX from -40°C-85°C according to EN50155!
This is made possible by the outstanding efficiency of 95 % at 110 V operation and 90 % at 24 V operation. With the galvanic isolation of 3300 VAC, the active inrush current limiter, the hold-up time of 10m/s and the extremely low weight of only 420 g, the new converters of the intreXis Boardnet Converter Platform are well equipped for the most demanding railway applications.
In addition to the units with +24 VDC Single output, are Dual Output Units with ±24 VDC and ±15 VDC. The Dual Output Units are well suited to power Current Sensors and other loads which require a bipolar power source. All units of the intreXis Boardnet Converter Platform are equipped with all necessary filters and are 100% compliant to EN50155 without any additional external components!
Convince yourself and test a unit!