Goldschmidt Thermit Group acquire SRS Sjölanders
The German Leipzig-based Goldschmidt Thermit Group is expanding in Scandinavia with the acquisition of SRS Sjölanders AB based in Osby, Sweden. SRS Sjölanders is an international leader in the field of vehicles designed to run on rails and road.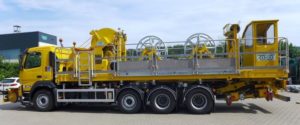 SRS Sjölanders Road-Rail Vehicles
SRS Sjölanders specialises in the production of road-rail vehicles ideal for installation, inspection and maintenance of overhead lines as well as the inspection of bridges and tunnels. In addition the company produces road-rail heavy duty cranes and road-rail flash butt-welding machines.
When the vehicle is on rails, it sits entirely on the track wheels. This design delivers safety, traction, tracking stability, brake power, speed and travel comfort. SRS Sjölanders AB's patented road-rail system is fitted on more than 500 vehicles around the world. They can be transferred from road to rail in less than two minutes.
In addition, SRS Sjölanders also offers a broad range of maintenance services.
Dr. Hans-Jürgen Mundinger, CEO of the Goldschmidt Thermit Group, said:
"The whole of the Goldschmidt Thermit Group will benefit from the special expertise of SRS Sjölanders in the development and production of road-rail vehicles, in particular the division for road-rail grinding machines, but also in our core area of rail welding. The acquisition represents an important strategic addition to our product range for the maintenance of rail systems worldwide."
Peter Sundström, Managing Director of SRS Sjölanders, said:
"We see ourselves as a high-tech supplier to the railway industry. Together with the Goldschmidt Thermit Group we can expand our global customer base and open up new markets for our products and services."
Stefan Damm, Head of Special Projects at the Goldschmidt Thermit Group, said:
"The global trend towards more intensive use of railway networks is leading to ever shorter time slots available for maintenance. The expertise of the Goldschmidt Thermit Group and SRS Sjölanders for the integration of more and more technology in road-rail vehicles will enable the efficient exploitation of track possession periods."