Introducing Globe Scott Motors' (GSM) electric point machines, which can be used across all types of traction, track gauges, rail types, points and crossings.
Safety and reliability in railway transportation have always been GSM's deepest purpose. Having worked in the industry for more than 20 years, GSM understands the importance of safety required when it comes to transporting millions of people daily, with its unmatched products, especially the electric point machine.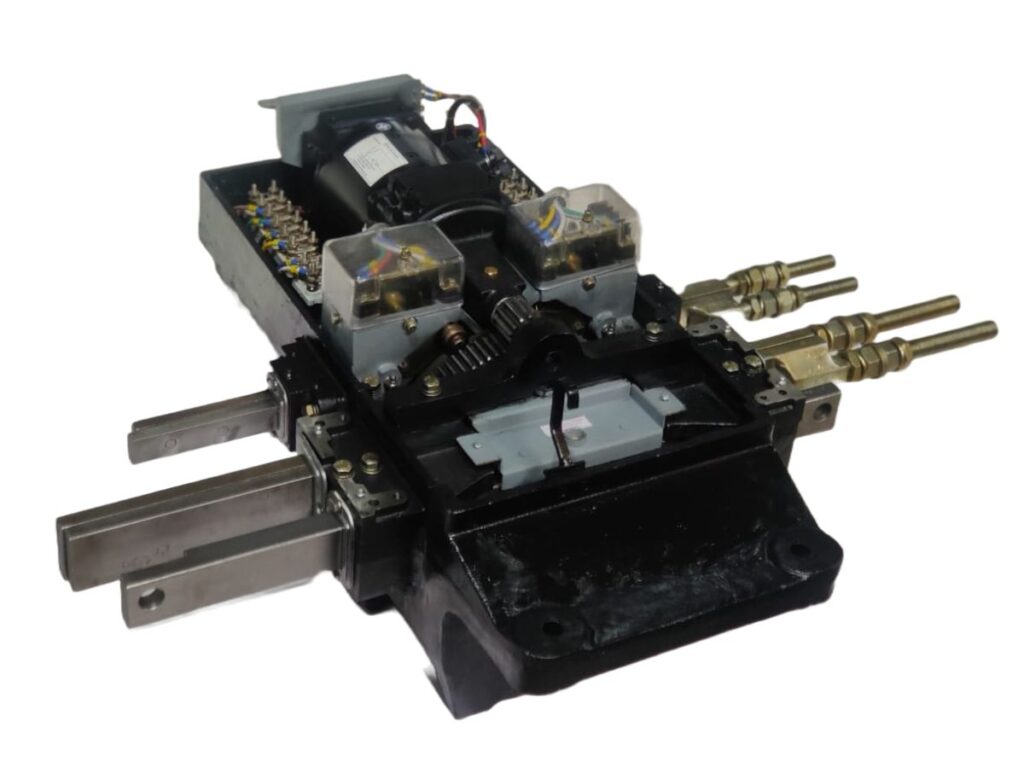 Globe Scott's electric point machines meet all safety requirements, even in harsh environmental conditions, and are certified for compliance with IRS:S 24:2002 specification issued by the Railway Board – India.
The fast-working devices are designed to electrically operate the rail points of high-speed turnouts. The device incorporates an internal point lock and detection mechanism and comes with a self-adjustable friction clutch which takes care of stopping the motor smoothly at the end of each operation by mechanical braking.
Two models are available as per the operational requirement and can be installed beside the track, with either throw 143mm or 220mm. Both are completely self-contained, easy to install and ready to use. The machines' unique design ensures minimum maintenance under operating conditions.
Benefits of a GSM Electric Point Machine
Here are some of the many benefits of GSM's electric point machines:
Solid construction ensures long operational service life
Completely self-contained, installation and handling are simple and straightforward
Interchangeable devices
Heavy-duty, self-wiping detection and controlling contacts
Unique design – including maintenance-free bearings – ensures minimum maintenance is needed under operating conditions.
Adaptability
Current harsh weather conditions demand that the point machine is watertight, when faced with severe monsoons in many waterlogging areas in India. With this in mind, Globe Scott is currently working on a new watertight electric point machine on the request of Indian Railways, with whom it has a long-term relationship.
"A particular railway department approached us to ask if it would be possible to make a watertight electric point machine. This is something we're in the process of developing and approving for use at Indian Railways. We're always eager to support our customers and develop new solutions."
With IP-67 point machine in line, GSM sets yet another milestone on the way to minimising interruptions in train journey during monsoon by providing flexibility, reliability and functionality. The special design makes this point machine versatile enough for extreme weather conditions experienced in India.
Reduced Maintenance Time and Cost
GSM's R&D team used its existing knowledge and know-how, together with the electric point machine, to create IP-67 Point Machine. This results in considerable maintenance advantage and thus cost savings, as the machine and its critical parts are fully protected against rain water, dirt and sand. The ends of its detector, drive and lock rods are perfectly protected as per compliance with IP-67 specification.
Learn More about Globe Scott's Electric Point Machines
Globe Scott Motors is eager to expand its customer base internationally and work with a wider variety of OEMs and rail operators all around the world.
This article was originally published by Globe Scott Motors.