Full Train Weighing system at Hitachi North Pole Depot
Who is the Customer?
Weighwell Engineering Ltd have been involved in a variety of Hitachi projects over the last 10 years and we have now installed a full train weighing system (PTW 500-VB2X) at Hitachi's new North Pole Depot.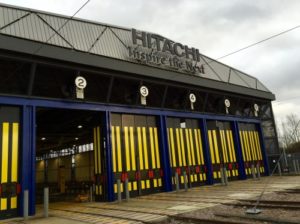 The North Pole Depot was previously used for Eurostar's fleet of trains up until 2007. Hitachi have now reopened the site to provide maintenance to a variety of different trainsets such as the Class 800 and Class 801 Hitachi Super Express Trains. The Hitachi Super Express trains will operate on the East Coast Main Line and Great Western Main Line and are an integral part of the 'Intercity Express Programme'.
Full Train Weighing
Similar to the train weighing system installed at Hitachi's Ashford depot, our rail weighing equipment provides individual wheel weights across the total train. This is beneficial in fleet refurbishment and modification. Our portable patented systems have a basework length of only 500mm and can be installed without major modifications to the existing rail track (such as drilling or welding). This allows a full train to be weighed instantaneously with minimal installation time.
Software for Weighing Trains
Our ptwX software is used to provide the weighing results for our static train weighing systems. Designed with the end user in mind and used as a diagnostic tool we can provide the wheel load information for all 8 wheels (4 axles) at the same time and wheel numbering specific to the train configuration. Ultimately our software can help enhance the role that train engineers and depot managers have carried out for decades, with information that can allow for greater efficiency and precision.
The Portable Train Weigher (PTW) can weigh single axles, bogies and the total train and is the first ever mobile equipment used for testing the weight of railway rolling stock. As well as having a significant impact in cutting excessive train maintenance costs our systems can also help reduce the potential risk of derailments.