France: Alstom Citadis X05 Tram Unveilled with SRS Technology
The new Alstom Citadis X05 tram which will operate on the East-West line and Line 3 of the Nice Côte d'Azur Metropole has been unveiled. The trams will begin running passenger services by 2018/2019.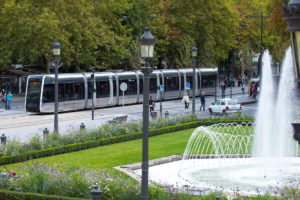 The lack of overhead contact lines on the surface section of the route mean that the tram benefits from intermittent charging in stations. The lines of the tramway in the future will be catenary-free in the overground sections. The line will feature the first use of Alstom's latest ground-based static charging technology (SRS), enabling the tram to charge automatically in less than 20 seconds when in the station. They are equipped with on-board energy storage devices, a Citadis Ecopack, to keep the trams moving between stations. SRS is a next generation product from the APS ground-level power supply currently in use in Bordeaux, Reims and Dubai.
The new design is the result of public consultation, with inhabitants of the city invited to choose a design from three options created by French designer ORA ÏTO. The ochre design was the clear winner, with 44% of the vote. The colour takes its inspiration from the façades of the city's most iconic buildings. It also had to be designed to blend into the urban landscape without interrupting the city's architecture.
The cutting-edge trams will also deliver a more comfortable experience for passengers, with 40% bigger windows than their predecessors, LED lights, larger seats and passenger information on extra-wide screens. They also offer access for passengers with reduced mobility with double doors down the length of the tram, which will also enable fast embarkation and disembarkation times. The real-time video protection system and fire-resistant components ensure the safety of passengers.
The development of the Nice Côte d'Azur Metropole tramway system is the product of seven out of twelve of Alstom's French facilities: La Rochelle will design and assemble the trams, Le Creusot the bogies, Ornans the motors, Tarbes the traction, Villeurbanne the onboard electronics and passenger information system, Saint-Ouen the coordination of the design and Vitrolles the ground-based static charging solution.