France: Bombardier Supply Additional Regio 2N Double Deck EMUs to SNCF
SNCF have exercised their option to order four additional eight-car Regio 2N double deck electric multiple units from Bombardier Transportation. The €34million order will be financed by Brittany and is part of a 2010 contract to supply up to 860 trains for use throughout France. Thus far, ten regions have ordered a total of 213 of these trains.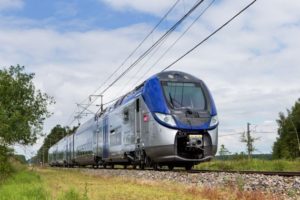 Brittany's fleet will now number 21 Regio 2N trainsets. 14 eight-car trainsets each feature 491 seats and seven six-car trainsets each have 350 seats. Six of the trains are operating services Rennes – Saint Malo, Rennes –Saint Brieuc-Brest, Rennes – Quimper and Rennes – Vitré.
The trainsets will be manufactured at Bombardier's Crespin site in Northern France. The order for the latest additions will be filled in 2019. The Regio 2N fleet is hugely successful in France, having travelled over two million kilometres since they began operating in 2014.