FRA Announces $25m in Grants for US PTC Implementation
The United States Department of Transportation's (DOT) Federal Railroad Administration (FRA) has announced the award of $25 million in grants for 11 projects in six states to support the implementation of Positive Train Control (PTC). The FRA received 30 eligible applications for awards totalling $90.6 million.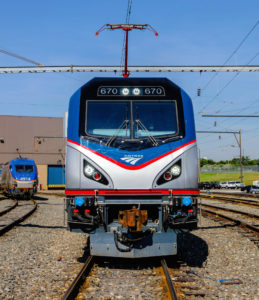 The projects to benefit from the award will enable railroads achieve interoperability between different PTC systems currently deployed in the country. PTC systems are intended to prevent train-to-train collisions, over-speed derailments, incursions into established work zone limits, and trains going to the wrong tracks as a result of improper switching. 
US PTC Implementation 
The United States Congress mandated the implementation of PTC in 2008. The legislation covered mainlines of Class I railroads and entities that deliver regularly scheduled intercity or commuter rail passenger transportation by which poisonous or toxic by inhalation hazardous materials are transported. In October 2015. the PTC implementation deadline was pushed back from the end of 2015 to the end of 2018. 
Anthony Foxx, U.S. Transportation Secretary, said:
"These grants get us a bit closer to implementing Positive Train Control – a long overdue technology that prevents accidents and saves lives. We will continue to do everything in our power to help railroads install this technology.  We encourage Congress to fully fund the President's request for significant funds to help more railroads activate PTC."
Sarah E. Feinberg, FRA Administrator, said:
"Every dollar we invest in implementing Positive Train Control as quickly as possible is money well spent because ultimately it means fewer accidents and fewer fatalities. Today's grants inch us closer to a safer rail network with PTC." 
FRA awarded the following grants: 
$2.4 million to Metrolink, California
$3 million to Sonoma-Marin Area Rail Transit (SMART) District, California
$2.88 million to Caltrain, California
$2.64 million to Amtrak, D.C.$2.5 million to American Short Line and Regional Railroad Association, D.C.
$965,832 to Providence and Worcester Railroad Company (P&W), Massachusetts
$1.1 million to Twin Cities & Western Railroad Company, Minnesota
$3 million to Missouri Department of Transportation
$771,070 to North Carolina Department of Transportation
$3 million to Capital Metropolitan Transportation Authority, Texas 
$2.56 million to Fort Worth & Western Railroad, Texas