Forbo: The Widest Portfolio of Compliant Floor Coverings for Rail
As more and more people eschew commuting by car, rail has become the mode of choice for many daily travellers. Roads are getting busier and weekend demand is also increasing. With a rise in rail ridership across all ages, the aesthetic of interiors needs to appeal to a wider range of demographics than ever before.
Forbo offers the widest portfolio of compliant floor coverings for rail on the market.

Coral FR Entrance Flooring
If you could reduce the cost and time of cleaning without lifting a finger, what would you say?
In the absence of a magic wand, the answer lies quite literally at our feet. It is in the floor covering you choose for your rail vehicle project.
At our Coral FR production site, we manufacture entrance flooring that with appropriate maintenance and installation, can do the following:
stop up to 95% of dirt and moisture entering a rail vehicle
may save up to 65% of the lifetime cleaning costs of the other interior floor coverings
reduce the potential for slips and trips
How?
A passenger entering a train vestibule will be met underfoot by a moisture-removing surface that will get rid of wet and dry soiling from the soles of shoes and suitcases without them having to so much as wipe their feet. Coral FR also reduces premature wear and tear to interior floor coverings, minimises cleaning and maintenance costs and protects passengers by reducing slip hazards, increasingly important in the winter months and in wet weather.
Benefits:
high moisture absorption
dirt scraping for effective clean-off
excellent soil hiding properties
advanced colouring and design choice
reaction to fire EN 45545-2: HL2
Coral Move FR
Within the Coral range is Coral Move FR. It features soil-hiding properties but it is also warm and has acoustic benefits, crucially enhancing the passenger experience.
With bespoke customisation capabilities, our design team will work to match brand and colour requirements on an individual project-by-project basis. Coral Move FR is also made from 100% regenerated Econyl yarn making it a responsible choice.
Coral FR is welcoming, attractive, easy to maintain, saves you money and is even environmentally conscious. Who knew you could get so much from a floor covering?

Flotex FR Flocked Flooring
Flotex FR will withstand high volumes of traffic and is very easy to clean because of its short fibres. It is the perfect choice as it encapsulates the durability of a resilient flooring with the comfort, slip resistance and acoustic properties associated with textiles. We offer a complete custom design service, allowing you to match the floor precisely to your interior design scheme or corporate identity colours.
Benefits:
high durability
hygienic
easy to clean due to short nylon fibres
slip resistant
reduces airborne allergens – independently approved by Allergy UK
reaction to fire EN 45545-2: HL2
Marmoleum FR Linoleum Flooring
Marmoleum FR is composed of a high percentage of natural raw materials, making it very environmentally friendly. It offers something completely different to other floor coverings. Because of its UV-cured finish, it is scratch and scuff-resistant meaning it will stand the test of time against suitcase wheels and frequent footfall.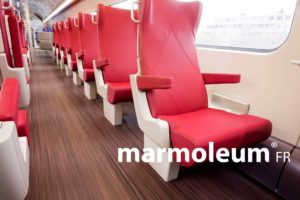 Benefits:
homogeneous, durable construction
low life-cycle costs – easily repaired
resistant to cigarette burns
wide range of colours per design
reaction to fire EN 45545-2: HL2/HL3
Tessera FR Carpet
Tessera FR is offered in a combination of pile constructions creating a unique appearance. When installed on a rail vehicle, it can be colourised to create a bespoke design. It is slip-resistant and because of its heat-trapping capabilities as a textile, it will help to curb heating costs.
Benefits:
durability and appearance retention
flexibility in colourisation
slip-resistance
reaction to fire EN45545-2: HL2
comfort underfoot
acoustic benefits
To request a sample of any product, email: [email protected] or visit the website here.
FOR ALL THE LATEST TRANSPORT NEWS FROM FORBO, PLEASE CLICK HERE.