Communications-Based Train Control Trials Begin in Singapore
The Land Transport Authority (LTA) and SMRT began trialling a new signalling system on the Singapore North-South Line (NSL) on 28 March 2017. The operational trials using the newly-installed Communications-Based Train Control (CBTC) system are taking place during the last hour of passenger service.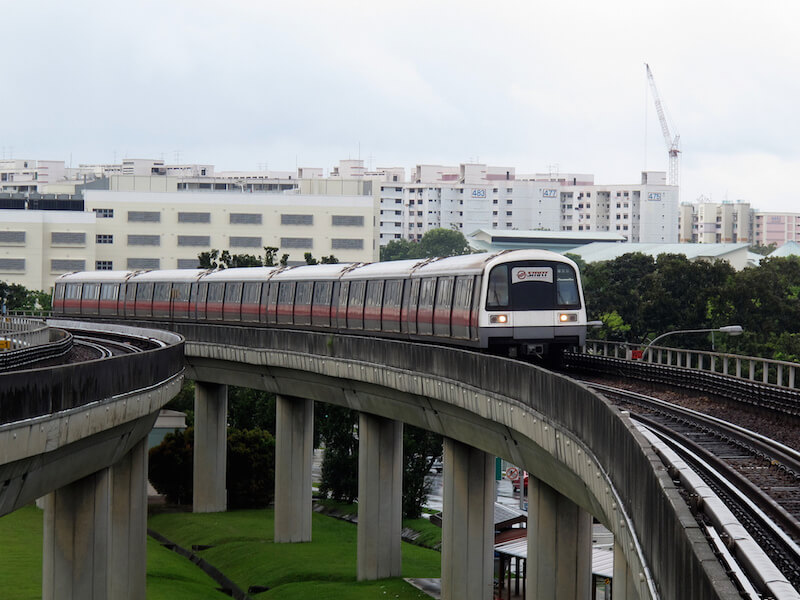 Communications-Based Train Control
The signalling system upgrade is part of LTA and SMRT's on-going efforts to rejuvenate its ageing rail network. It involves upgrading the NSL's signalling system from the existing Fixed Block System to the more advanced Communications-Based Train Control System. This new system allows trains to run more closely to each other, which can shorten wait time from the current 120 seconds to 100 seconds, and improve peak-hour capacity by up to 20 per cent while continuing to ensure operational safety
Rigorous Testing
Since August last year, LTA and SMRT have been conducting extensive tests of the new signalling system during engineering hours to test its robustness. These include running test trains fitted with the new system, adjusting the alignment between train doors and platform screen doors when trains stop at stations, amongst others. Engineers also ran test trains at interchange stations between the NSL and the East-West Line (EWL) to ensure a proper switchover, as re-signalling works are still underway for the EWL.
New Signalling System Trials
With the successful completion of test runs during engineering hours, the new signalling system will be trialled gradually during operational hours, starting from the last hour of passenger service.
At around 11pm, in-train announcements will be made to inform commuters that all trains along the NSL will remain stationary for about 10 minutes while both SMRT's Operations Control Centre (OCC) and the train captains switch the network and trains over to the new signalling system. Train service will then resume in the new signalling mode.
During this trial, SMRT will deploy staff to stations along the NSL to provide assistance to commuters. Train operations and performance will also be closely monitored by both train captains and the OCC, ensuring commuter safety as our top priority.
Mr Siu Yow Wee, SMRT's Director for Station Operations for North-South and East-West Lines (NSEWL) said:
"We have been working very closely with LTA to ensure minimum inconvenience to commuters during these trials. Station announcements will be made to keep commuters informed during the switch-over, and station staff will also be on hand to provide assistance to commuters if necessary. We would like to remind commuters not to rush to board the trains, as train doors will open and close automatically on the new signalling system."
Mr Tan Yih Long, LTA's Re-signalling Project Director added:
"We will progressively trial the new signalling system during the last hour of service from 28 March, and monitor its robustness and reliability every step of the way. The results will help LTA decide when to extend trials to longer service hours, and eventually the full switchover of the new signalling system."
Original article © the Land Transport Authority.
FOR ALL THE LATEST INFORMATION, NEWS, IMAGES, VIDEOS AND ARTICLES ON ALL ASPECTS OF SIGNALLING AND TRAIN CONTROL, PLEASE CLICK HERE.