Cital Delivers the First Citadis Tram to Ouargla in Algeria
Cital, the joint venture held by Ferrovial, Enterprise Métro d'Alger (EMA) and Alstom, delivered the first Citadis tram to the city of Ouargla. The official ceremony was held at the tram maintenance centre and depot.
This tram, along with the 22 others ordered by EMA for the city of Ouargla in 2014, will run on the new line (about 10km long, comprising 16 stations) which will connect the old city (El Ksar) to the new city (Hai Nasr) via the city centre of Ouargla. This new line – which includes a maintenance and depot centre – is expected to open at the end of 2017.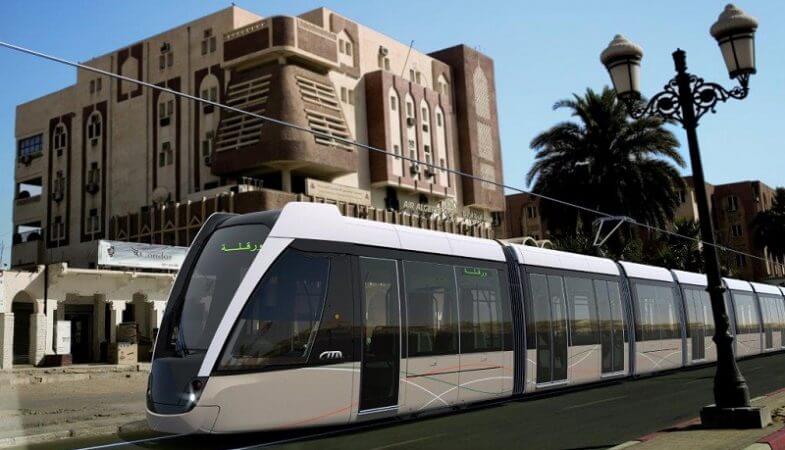 Henri Bussery, Managing Director of Alstom Algeria, said:
"We are delighted to be working with our partners on such an important project that will provide the residents of the city of Ouargla with comfortable, accessible and environmentally friendly transport that is perfectly integrated into the city. Through Cital, Alstom is better positioned to meet the mobility needs of Algerian cities"
Nearly 44 metres long, the Citadis tram for the city of Ouargla is capable of transporting over 400 passengers. To adapt to the desert climate of the city of Ouargla, significant technical updates have been made to the tram. Several components have been modified to withstand maximum temperatures of up to 49 degrees, intense solar radiation, and high levels of dust and sand in the air. To this end, the air conditioning system has been reinforced, the windows have been equipped with a solar protection film, the traction and the braking have been modified for greater impermeability, and the exposed parts (joints, shock absorbers and pantograph) have been protected. 
The design of the tram, created by Alstom's Design & Styling department, reflects the image of the city of Ouargla. For example, the outer livery is reminiscent of the colours of the sun and the desert, while the green interior is inspired by the softness and freshness of the palm groves. 
The Ouargla tramway project was entrusted to Alstom and Cital. Alstom is responsible for the supply of the systems: energy, traction substations, telecommunications systems, signalling, operational assistance, maintenance equipment and ticketing. Among the Alstom sites involved in the project are: Saint-Ouen (France), Barcelona and Madrid (Spain), with project management carried out by the teams in Algeria. The Citadis trams are supplied by Cital and assembled at the Annaba site in Algeria. 
Six other Algerian cities have adopted the Citadis tram: Algiers, Oran, Constantine, Sétif, Sidi Bel Abbès and Mostaganem. 98 Citadis trams are already in circulation in Algiers, Constantine and Oran.
Please click here for the original article.