Choosing the Right Rail Hose to Keep your Train Design on Track
The new European standard EN45545, introduced in September 2013, was designed to create a much safer travel environment for passengers and rail staff.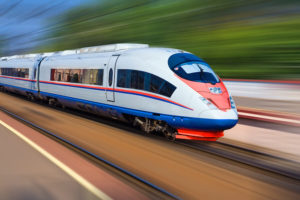 New trains built from March 2016 onwards have to be built in line with this standard.
For engineers, this standard has made designing rail vehicles more challenging, particularly when they have to contend with some of the world's most demanding environments. Powerful vibrations, varying temperature extremes and harsh climates in general have become typical working environments for components and systems in rail systems.
Component Specification is Crucial
Hoses are used extensively throughout rail vehicles, including locomotives, high-speed trains and trams, so achieving early and complete compliance has been crucial.
As we enter the age of higher- speed trains, longer tunnels and the need for greater survivability, the European Union sought to find an alternative, either to the formerly valid national – and therefore different – safety standards or to the classic rail hose assembly flame tests in accordance with EN 15540 (a minimum of 800C for at least 15 minutes). Combine that with the demand to ensure compliance with ever lower pollutant emission limits, you have a recipe that could give a train design engineer a headache.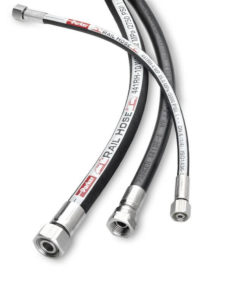 How material and components act when exposed to fire is not only dependent on their inherent properties, but also on their application, what shape they are used in and the final arrangement of the materials' exposed surfaces. Not to forget their relative mass and thickness.
Based on this, products listed in EN 45545-2 are further categorised into sub-groups: use in accessible or not openly accessible areas (think the driver's cabin); general area of application (inside or outside of train waggons) and a more specific area of application and material (train furniture, electrical or mechanical equipment).
Looking at EN 45545-1, its operation and design categories are used to determine the hazard levels on which the requirements are based: this part defines the necessary test procedures. These requirements are currently specified in 25 varieties (R1-R25).
How Are the Tests Done?
The testing methods are laid out in a rather detailed manner. For example, lateral 'spread of flame' tests need to be performed on samples hanging vertically in accordance with EN 5658-2. The "smoke test" is done differently, taking place in a single test chamber complying with EN 5659-2. This test is done to determine the heat release and mass loss rate characteristics of the products involved using a calorimeter method according to EN 5660-1. Testing for evidence of smoke toxicity is performed according 10 NF X70-JOO parts 1 and 2. Finally there is also the EN 11925-2 ignition testing for small parts and burning, dripping material. Sounds complex and a lot? It is. Having someone do this for you is cost-saving – and could be life-saving.
In the case of Parker's products, these tests are performed by the certification company LAPI. With rubber rail hose products the aim is always to achieve high flame resistance through the use of superior rubber compounds and latest processing technologies. We make sure to be a development partner with its customers to ensure hoses are safe, reliable, durable and flexible. Bonus: our expertise in trouble-free handling.
Parker, as a worldwide system solution provider, is an experienced partner for rail applications and is certified to all required standards. Offering a wide range of hoses from low to high pressure for all relevant rail applications within locomotives, high-speed trains, city trains, regional trains, trams, suburban trains/metros and track maintenance vehicles, Parker is one of the first hose manufacturers to fulfil these new requirements of EN 45545-2.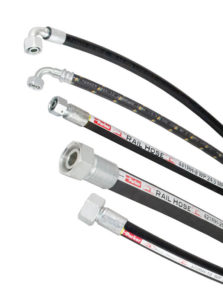 What's in It for Me?
The demand for EN 45545-2- compliant hoses has never been stronger. Mass transportation is growing in importance; demand in many countries throughout the world is high and still rising. The key success of many projects is the fact that Parker was the first hose manufacturer in Europe to develop a new rubber compound to the required standards of EN45545 in terms of fire redundancy. With smoke behaviour and toxicity under control, Parker has enabled design engineers to construct new designs easily and with peace of mind. Special rail hoses deliver more design advantages such as better bending radiuses making designs easier, manipulation faster and reducing assembly costs.
We offer a range of hoses for whatever application: hydraulics (brake system, hydrostatics), pneumatics (brake system, suspension, auxiliary systems), cooling systems (water cooling, air conditioning), fluid conveying (diesel fuel, water for sanitary facilities) and of course heating (water).
Ideally suitable are the 681 DB 2TE rail hose and 441 RH compact rail hose. Both are available with carbon steel and stainless steel fittings. If very tight bend raduses are needed, the 477Rh hose is the ideal product to use. Larger dimensions up to 2" are available with the 421RH hose solution. Plus, when operating in higher pressures, we offer the 372RH three-wire braid compact hose, specially designed for high pressures (4SP-level). Our modern classic, the 797RH Compact Spiral hose is suitable for applications where both high pressures and light bend raduses are required. All feature Parker's well-known Parkrimp No-Skive crimping technology for those that prefer to make their own safe and reliable hose assemblies.
FOR ALL THE LATEST INFORMATION, NEWS, IMAGES, VIDEOS AND DOCUMENTS FROM PARKER, PLEASE CLICK HERE.