China Railway Corporation Orders Eco-Friendly High Speed Trains
Rail technology leader Bombardier Transportation announced that its Chinese joint venture, Bombardier Sifang Transportation Ltd. (BST), has been awarded another contract from China Railway Corp. (CRC) to supply 40 CRH1A-A eco-friendly high speed trains to the Nanning Railway Bureau.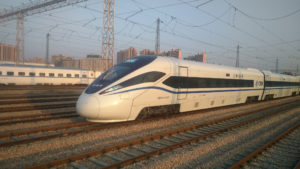 High Speed Network
The new trains will become part of the ongoing integration of Guangxi's regional high-speed railways into the national high-speed network.
Jianwei Zhang, President of Bombardier China, said:
"Our cutting edge rail technology is one of the driving forces behind the rapid development of China's advanced high speed train network. We have already provided over 3,000 high speed train cars to the Chinese market and this latest contract is further proof of our ability to consistently leverage our expertise and experience to contribute to the development of local and national economies in regions like Guangxi."
Guangxi occupies an important hub of tourism, trade and is an important link with the Association of Southeast Asian Nations. These high speed trains will help integrate Guangxi into the national network, connecting the region to neighbouring cities and boosting the local economy while improving the passenger's travel experience.
Eco-Friendly High Speed Trains
The CRH1A-A train has an operational speed of 250km/h and its aluminium car body's design delivers improved performance and lower operating costs by reducing weight, track wear and aerodynamic drag. The train also has a unique appearance due to its innovative graphics, windows, lighting and shape, while its exceptional energy efficiency sets new industry standards for sustainable transportation and passenger comfort. The trainsets are manufactured at Bombardier Sifang (Qingdao) Transportation production facilities in Qingdao, China and feature the highly efficient BOMBARDIER MITRAC propulsion and control system, supplied by a separate Bombardier Chinese joint venture, Bombardier CPC Propulsion System Co., Ltd. (BCP).
This new contract for five 8-car trainsets is valued at approximately 543 million Chinese RMBs (73 million euro, $79 million US) and follows a separate contract for 144 high speed cars announced by the JV in early March. Bombardier owns 50% of the shares in BST, and the JV is controlled by BT's partner CRRC Sifang Co., Ltd. This latest contract is the fourteenth high speed train order that BST has been awarded since 2004.
Original article © Bombardier Transportation.
FOR ALL THE LATEST INFORMATION, NEWS, IMAGES, VIDEOS AND ARTICLES ON ALL ASPECTS OF ROLLING STOCK, PLEASE CLICK HERE.