These sections are blocked for the duration of the test, as the trains travel 10 percent faster than normal during the test runs, creating a risk of collision.
High Measurement Sensitivity and Broad Frequency Range
General-series capacitive acceleration sensors from ASC are highly suitable for test set-ups like Alstom's thanks to their high measurement sensitivity and stability. They enable precise measurement, even of slight linear acceleration and low-frequency dynamic acceleration. ASC has since included the successor line, the MF series, in its product range. These medium-frequency acceleration sensors are also equipped with a large frequency range from 0 to 7 kHz (±3 dB), which opens up wide-ranging applications, including in the automobile and wind energy fields. The MF acceleration sensors also feature a differential output, measure reliably in higher operating temperature ranges and are able to work with very low voltages.
The Sensors Are Impervious to Environmental Influences
At least as important as the high measurement sensitivity of the sensors is their extreme ruggedness, as they are exposed to rain, snow and mist during the test runs and must function flawlessly within a broad temperature range between –20 and +100 °C. Other than their own housing, the electronics do not have further protection, as they are only screwed to magnetic blocks and then mounted in the position to be measured by the Alstom engineers. This makes the rugged construction of the sensors a big advantage. The sensor specialists at ASC have designed their sensors in such a way that they work reliably and precisely even under these demanding conditions. Not only are they rated protection class IP67, they are also designed for a very broad temperature range from –40 to +125 °C.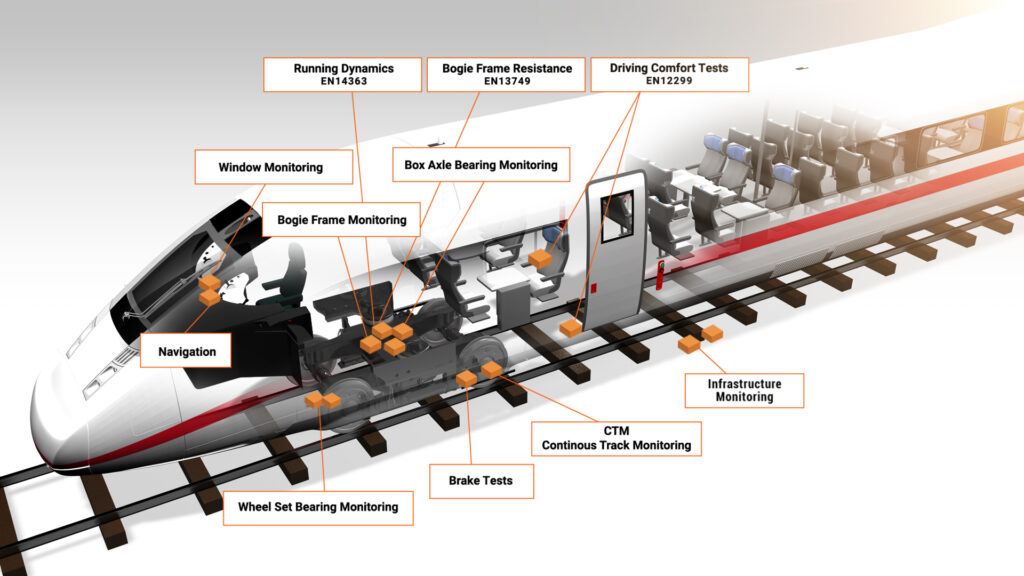 © ASC
Six to Eight Weeks of Continuous Use
Although the running dynamics of Alstom trains are tested on only a few sections of track, the vehicles cover distances of around 2,000km for bogie-strength testing. "To do this, we cover a loop from the Ruhr region through Cologne to Frankfurt, stopping at every station." said Michatz. "During the tests, we simulate normal train operation in every conceivable operating situation." Though every test run is concerned with operating safety first and foremost, riding comfort is also "put on the test bench". This has been expressed in numerical values which are specified in EU standard EN12299 and apply across Europe. The ASC 4421 is predestined for the measurement of the smooth running of trains, as it can also precisely measure slight linear acceleration.
Every train is subjected to tests, but only one train per series needs to undergo full running dynamics and bogie-strength testing. The trains are equipped with the sensors two weeks before testing and then run with them for six to eight weeks. "During this time, we measure eight to ten hours per day at low frequencies under 15 Hz," said Michatz. The sensors are scanned at 500 Hz, and their signals are recorded by measurement amplifiers.
Rotation Rate Sensors from ASC to Reduce Costs
In order for the test runs to be carried out at all, Alstom requires the line routing data on the test sections. These are precise specifications on the course and location of the tracks. Previously, the company had to purchase these data externally every six months, as they changed slightly on a continual basis due to external influences. To save money, Alstom would like to collect the data themselves in future. In addition to the 70 acceleration sensors already in use, an additional rotation rate sensor which will soon be on board during test runs was ordered from ASC. The results will then be analysed at the Salzgitter test site.
Still Extremely Stable after Five Years
Usable data are only generated during testing if sensors are always in proper working order, however. This is why ASC offers its customers calibration as a service – including for sensors from other manufacturers. Alstom's sensors are recalibrated every two years, and the values are recorded in an "ageing log". Even after five years, the sensors are still extremely stable.