Canberra Metro Win Canberra Light Rail Concession
Joint stock company, Canberra Metro PC Pty Ltd (Canberra Metro) have signed a contract with the Australian Capital Territory (ACT) Government for the concession to undertake Light Rail Transit (LRT) operations in Canberra as part of a public-private partnership (PPP) scheme. The Canberra Light Rail will be a 12km-long electrical tramway featuring 13 stops between central Canberra and Gungahlin in the north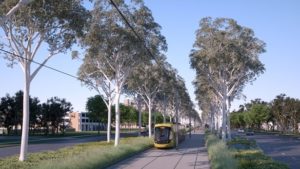 Canberra Metro is comprised of Mitsubishi Corporation, Pacific Partnerships (Australia), John Holland (Australia) and Aberdeen Infrastructure Investments (United Kingdom). The news that they have won the concession follows an announcement in January 2016 that Canberra Metro was selected as a preferred proponent. The contract relates to the construction, operation and maintenance for 20 years of the new Canberra Light Rail network.
CAF will supply the rolling stock, while the construction will be carried out by CPB Contractors and John Holland. DB Engineering & Consulting GmbH (subsidiary of Deutsche Bahn) has been selected as a partner to operate and maintain the system.
Canberra Light Rail
The Canberra Light Rail project is being promoted by the ACT Government as a top priority. Canberra Metro will deliver a safe and punctual public transit service which meets environmental sustainability targets as well as accommodating green spaces in the city. It will also contribute to economic development in Australia's capital.
The project is Mitsubishi's first in railway operation. It will make Mitsubishi's efforts to develop other PPP projects in Australia more robust. Mitsubishi has built up experience in the railway industry by its activities in rolling stock export, engineering, procurement and construction contracts and experience in airports, as well as seaports, power generation and water infrastructure projects. This concession, and their previous experience on other infrastructure projects, will serve as a good foundation for Mitsubishi to expand their activities in the railway industry internationally.
Glenn Palin, Chief Executive Officer of Capital Metro, said:
"Capital Metro will create enormous opportunity to regenerate the city through the delivery of public transport that supports a growing economy and population. We are proud to be working to connect people to their jobs, homes and services.

"The light rail system will also create and inspire new spaces for the community to enjoy with significantly more green space and a revitalised civic centre."