Railway transportation is one of the fastest and least polluting forms of transport in the world. Within the European Union, it is responsible for less than 0.5% of transport-related greenhouse gas emissions.
In this process, power electronic companies have the mission to design technologically advanced solutions to create increasingly lighter, more efficient, safer and more reliable trains.

Premium PSU is committed to adopting an innovative and pioneering vision to increase performance and power density from head to toe of the convoy. We got on the last train to get a closer look to discover how.
Premium PSU, a leading power electronics company based in Barcelona (Spain), maximises efficiency and high performance with unique solutions. Inside and out the convoy, a multitude of Premium PSU devices work to guarantee the performance of electronic equipment in order for the traveller to feel comfortable and enjoy the experience.
Premium PSU's devices are small but meaningful as they allow for a permanent connection; AC sockets allow the transformation of energy to charge electronic devices. To make it possible, Premium PSU's 1ph DC/AC inverters are behind. With a robust design, they fit in applications that require high reliability in a very compact space.
Systems such as those located in the doors, the bistro bar wagon or the integrated toiled modules must work smoothly during the trip. Premium PSU's DC/DC converters and DC/AC inverters, make the operation of essential elements and services possible. All Premium PSU's rolling stock solutions comply with EN45545-2, EN50155, and EN61373 standards, which lay down minimum requirements for input voltage range, electrical isolation, operating temperature, shock and vibration, humidity, EMC, reliability and expected operational life.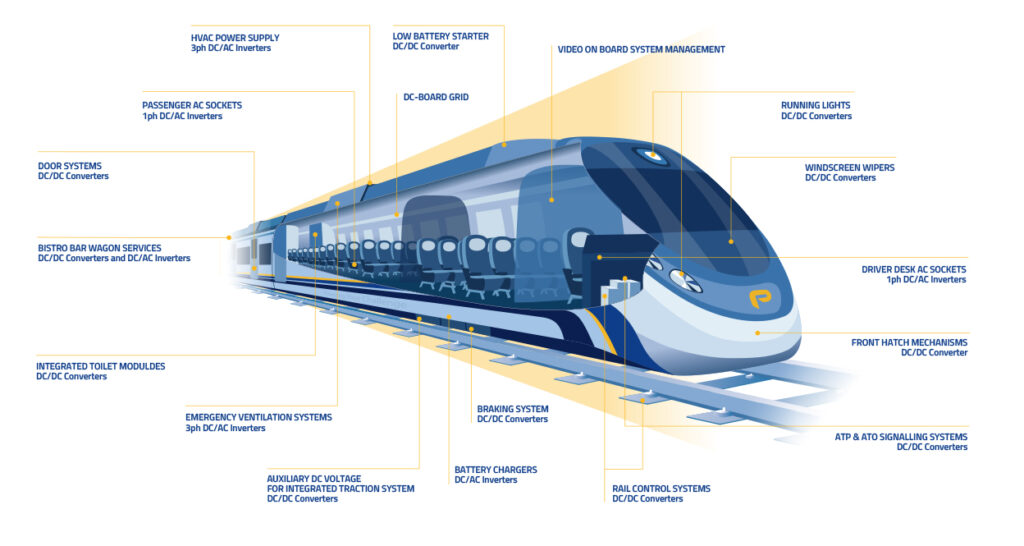 © Premium Power Supplies
Premium PSU's 3ph DC/AC inverters work inside the emergency ventilation systems, keep under control smoke propagation and create safe areas and a clean environment for travellers.
A wide range of DC/DC converters enable efficient power distribution to the DC-board grid, providing power to the traction system and all other integrated systems on the train, lighting, public information displays, etc.
Multiple Destinations
Railway product and systems development is constantly evolving and this is why custom design is also a possibility. From a variation on standard solutions to whole new developments, over 40 years of product innovation make Premium PSU the perfect partner to take challenges to a whole new level.
Custom designs are currently present in applications such as onboard video system management, railway control, braking systems or front hatch mechanisms, to name a few. Innovation and state of the art technology set Premium PSU apart. Working with the largest train and locomotive manufacturers and being involved in projects all around the world has given Premium PSU comprehensive experience in the field of rolling stock and extensive industrial know-how. A team of over 50 engineers in the RDI department, make customisation an easy process to get involved in.
40 Years on the Tracks
This year Premium PSU is turning 40. Since the very beginning, Premium PSU has worked with worldwide manufacturers and suppliers of transportation, which places them as a trusted technological partner. The key to our success is highly efficient products, ranging from a standard line to more than 900 custom made designs. This trajectory has resulted in a unique know-how that transforms into solutions of reduced cost and delivery times. Tell us about your project and we will make it ours!
This article was originally published by Premium Power Supplies.