SNCF has ordered an additional 27 OMNEO Premium trains for Normandy from Bombardier.
SNCF has ordered 11 additional OMNEO Premium ten-car double-decker trains on behalf of the Normandy Region. The Normandy Region is fully funding the purchase of the electric multiple units.
The order is worth 162 million euros (182 million USD) and is an option from a framework agreement signed between the two parties in 2010. That agreement was for a maximum of 860 trains for France's regions.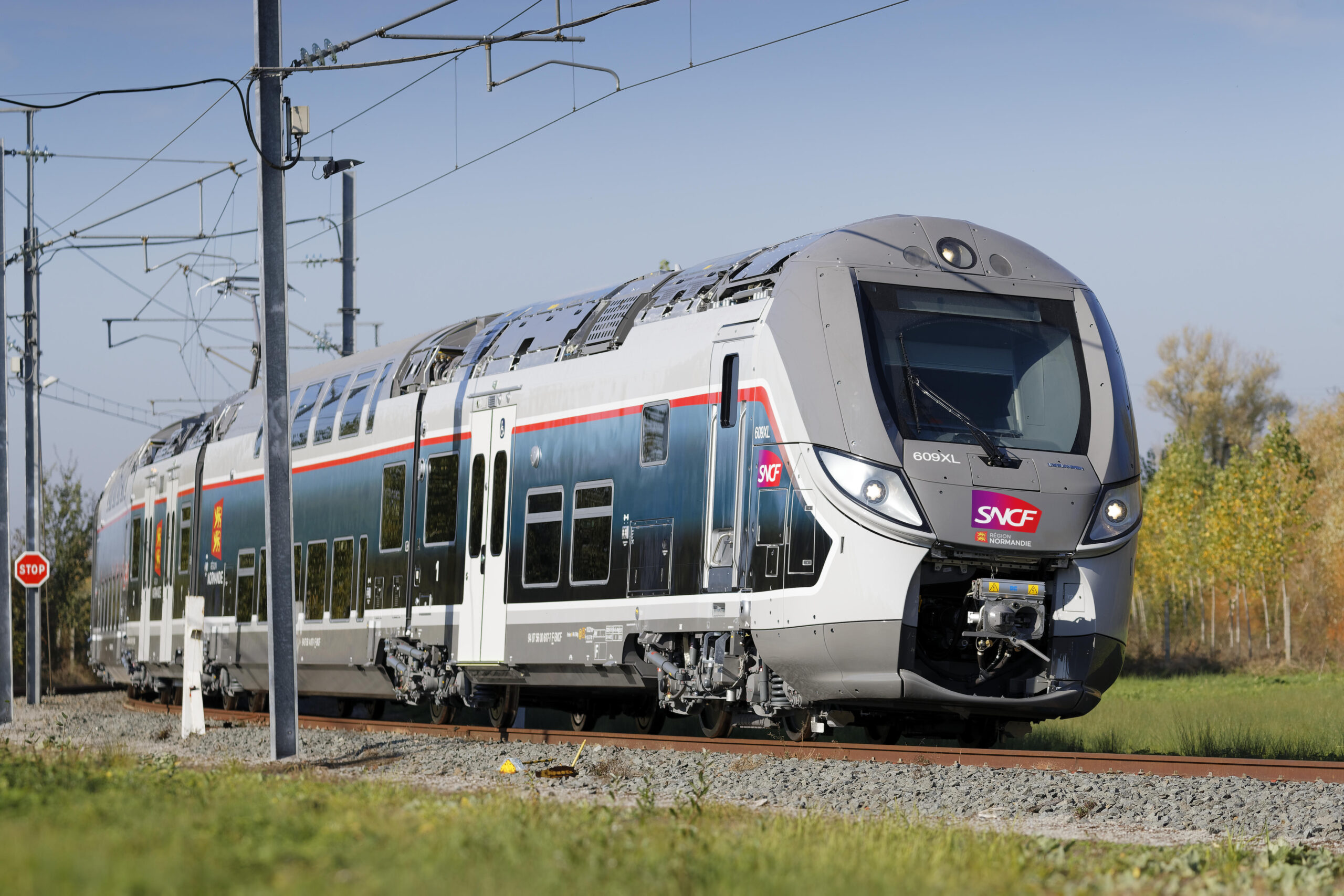 On 16 May Bombardier received a separate order for 16 additional ten-car trains (245 million euros | 275 million USD). These values include price escalations based on best-faith assessment of assumptions. That means Bombardier will supply a total of 27 additional OMNEO Premium trains to SNCF for Normandy.
The OMNEO trains will run on the busy lines connecting Paris to Vernon-Rouen and Paris to Evreux-Serquigny.
Bombardier will start delivering on this order at the end of 2023. After Bombardier has made good on both of these orders Normandy will have a fleet of 67 OMNEO Premium trains. Both the new Sotteville-lès Rouen SNCF technicentre and facilities in Caen and Le Havre will maintain the trains. By having a fleet of trains all from the same family, the region hopes to optimise maintenance costs.
"Passengers will discover a new style of train travel with the Bombardier OMNEO Premium. Our engineers have focused on allowing ample space for passengers, more seats and highly comfortable interior fittings. Designed and manufactured at our site in Crespin in the Hauts-de-France region, these trains are certified 'Origine France Garantee'."
In January 2020 Bombardier started delivering the first OMNEO trains from the initial order of 40 units placed in 2016. These trains are already carrying passengers. Normandy is the first region to order OMNEO trains.
OMNEO Premium Trains
OMNEO Premium trains are designed for long-distance travel. They feature first and second-class seating and in both classes each passenger has two individual armrests, reclining seats, a reading light, USB and power plugs and a large table.
Large LED screens throughout the trains provide passengers with travel information. There are also TFT (thin-film transistor) flat screens in the seating areas.
Each 135m trainset accommodates 550 seats and has space for up to twelve bicycles.
Bombardier's OMNEO platform includes its Regio 2N and OMNEO Premium trains. This family of trains is designed to be extra-large to provide extra capacity. It is possible to adapt them for urban, regional and intercity use.
The OMNEO is certified 'Made in France'.
So far ten French regions have ordered 455 OMNEO / Regio 2N trains – 118 OMNEO Premium and 337 Regio 2N trains:
32 OMNEO Premium trains for Centre-Val de Loire
19 OMNEO Premium trains for Hauts-de-France
67 OMNEO Premium trains for Normandy
59 Regio 2N trains for Auvergne-Rhône-Alpes
26 Regio 2N trains for Brittany
14 Regio 2N trains for Centre-Val de Loire
25 Regio 2N trains for Hauts-de-France
142 Regio 2N trains for Île-de-France
24 Regio 2N trains for Nouvelle Aquitaine
18 Regio 2N trains for Occitanie
13 Regio 2N trains for Pays-de-la-Loire
16 Regio 2N trains for Provence-Alpes-Côte d'Azur
Also read: