Baselland Transport Tests Collision Warning System for its Trams
Swiss public transport operator Baselland Transport (BLT) is testing a light rail collision warning system for its trams.
The assistive system is designed to support the driver and further increase driving safety. The project is being driven forward in cooperation with Stadler and Bosch Rail Transport.
With positive test results, BLT plans to equip the entire Tango Tram fleet with the collision warning system.
Light Rail Collision Warning System
BLT is integrating the light rail collision warning system into their Tango Trams in cooperation with Stadler and Bosch Rail Transport on the basis of proven mass production technology from the automotive industry. In a first step, the system serves only as a warning in dangerous situations. In a further integration step, braking will be triggered automatically in an emergency. However, the driver always has the opportunity to intervene in the process.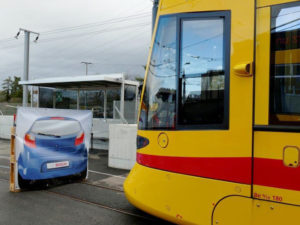 The light rail collision warning system used combines a video camera and a radar sensor with a control unit. The radar sensor detects the space in front of the tram for up to 160 meters and measures distance and speed to cars, buses and other trams ahead. In addition to moving obstacles, the radar also detects stationary objects. The video sensor is a supplement to radar technology. It allows the distinction of persons and objects and records the course of the rail. In a central control unit, all information from both sensors is combined to form an image of the environment and supplemented with further information, such as the tram speed. If the system detects a critical approach, it warns the driver optically and acoustically so that he can react in time.
Bosch Rail Transport
The Bosch Group is a leading international technology and services company and the world's largest automotive supplier. The Bosch Group employs around 390,000 people worldwide and generates sales of 73.1 billion euros. Bosch Rail Transport, part of the Bosch Group, is creating innovative, data-based solutions for rail transport, as well as the basis for automated rail transport.
Original article © BLT.
FOR ALL THE LATEST INFORMATION, NEWS, IMAGES, VIDEOS AND ARTICLES ON ALL ASPECTS OF RAILWAY RESEARCH AND TESTING, PLEASE CLICK HERE.