Bangkok's Suburban Train will Boost its Capacity by up to 40% with Thales
Thailand's main rail operator, the State Railway of Thailand (SRT), will adopt the European Train Control System (ETCS), ensuring the highest safety standards of operation. Through a contract signed with Nippon Signal, Thales will deliver the ETCS on two sections of the Red Line suburban train in Bangkok, totalling a distance of 41 km.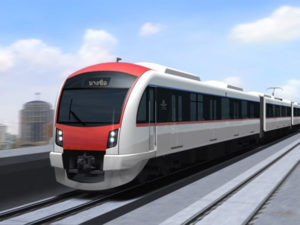 Red Line Commuter Train System
The Red Line commuter train system is a suburban rail project proposed by the SRT to address traffic congestion and encourage a shift from road transport to urban rail. The line is expected to serve 131,000 commuters daily when it goes into service. As part of Bangkok's Mass Rapid Transit Master Plan which aims to develop an urban rail transit network to serve metropolitan Bangkok and its surrounding urban areas, the Red Line is the first line which is fully integrated into SRT's conventional main line rail network.
On the Red Line, new electrical commuter trains will run as well as long distance passenger trains. It will consist of the following two lines: North Line (from Rangsit to Bang Sue) and West Line (from Bang sue to Taling Chan).
Thales ETCS System
The Thales ETCS system will ensure the highest safety standards for railway transport on the complete line. 25 new electric multiple unit trains and two existing non-electrified vehicles will be equipped with Thales ETCS on-board system, resulting in a total of 53 on-board units. Being fit for the future they will run in a pure Level 1 configuration but can easily be adapted for Level 2. The Red Line sections to be equipped are partly built in a four-track alignment and the remainder as a double-track line. The signalling part is planned to be finished in 2020.
Thales stands ready to support SRT's plans for growth. With proven signalling competencies and international market knowledge based on previous partnerships with Nippon Signal and earlier ETCS installations for SRT in Thailand, Thales hopes to enhance the technology and expertise delivered to the Thai transportation industry.
Tommy Ayouty, Country Director of Thales in Thailand, said:
As Thailand develops its transportation infrastructure to support a growing urban population, Thales continues to be a committed partner to the country, as we've done for close to 30 years across various businesses. We are supporting Thailand's ambitions in developing a robust urban rail network, and providing systems that ensure the highest level of safety to the SRT's commuters. We look forward to working closely with our partner Nippon Signal to bring the Red Line to the Thai people.
Original press release credit: Thales
FOR ALL THE LATEST INFORMATION, NEWS, IMAGES, VIDEOS AND DOCUMENTS FROM THALES PLEASE CLICK HERE.