Artesyn ControlSafe™ Expansion Box Platform Now SIL4 Certified
Fail-safe, fault-tolerant computing system for train control and rail signaling accelerates time-to-market for rail application developers.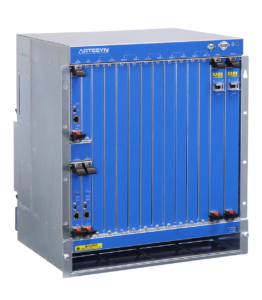 Artesyn Embedded Technologies today announced Safety Integrity Level 4 (SIL4) certification for the Artesyn Embedded Computing, Inc. ControlSafe™ Expansion Box Platform with ControlSafe™ Expansion Box computer and ControlSafe™ EXB software.
Certified by TÜV SÜD, one of the most trusted certification bodies worldwide, this commercial off-the-shelf (COTS) fail-safe and fault-tolerant computing platform is designed for a wide range of train control and rail signaling applications, especially large scale applications requiring substantial I/O processing capability.
The ControlSafe Expansion Box Platform can either be configured as a dual-redundant safety system or deployed as an I/O expansion subsystem.
Linsey Miller, marketing vice president, Artesyn Embedded Technologies, said:
"Our second SIL certified computing platform for rail applications and an enthusiastic response to the ControlSafe portfolio at the recent Innotrans exhibition underlines the fact that Artesyn is the go-to company for SIL4 COTS solutions"

"At the show, we had interest from integrators and developers of all kinds of rail systems and applications such as ETCS, CBTC, PTC, ATP, ATO, interlocking and radio block center. We also had enquiries from companies outside rail with safety applications in industries such as mining and process automation that are looking to take advantage of COTS technology with the reassurance of SIL4 certification."
Artesyn's ControlSafe Platform enables rail application developers and system integrators to substantially accelerate time-to-market without being deterred by the potentially high costs and risks associated with the stringent SIL4 system development and certification process, a process that can take multiple years to accomplish.