New Algorithm Makes Trains Greener for Chinese New Year
New Algorithm Makes Trains Greener for Chinese New Year: China's New Year – the Year of the Pig – officially begins on 5 February 2019. Preparations for this important festival in the Chinese calendar begin today. It is the start of the Little Year, which the Chinese mark by prayer and activities such as a spring clean.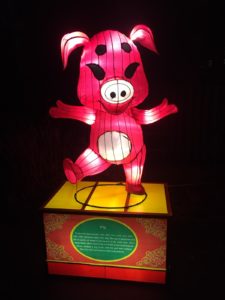 And just like Western cultures during the holiday period, the people of China travel home to be with their families. In China, however, it's the largest seasonal migration in the world, with 1.3 billion people on the move. Many of them will make their journeys by rail.
The people of China can look forward to travelling on trains that are both greener and suffer fewer delays. This is thanks to research from Xi'an Jiaotong-Liverpool University, the largest international collaborative university in China.
Research Making Trains Greener and More Punctual
Researchers at the university have created an algorithm to assist trains to run at optimal speeds, while also saving energy. The transportation journal IEEE Transactions on Intelligent Transportation Systems recently published their findings.
The article's lead author Chaoxian Wu explains that this research gives trains a new way to cut down their overall energy consumption. They can do this by using the discharge and charge mode in energy storage devices coupled with optimal train scheduling using mathematical modelling.
PhD Student Chaoxian Wu said:
"These days almost all electrical trains use a technology called regenerative braking. This technology transforms the kinetic energy generated from braking into electrical energy, which is then stored.

"Without on-board energy storage devices, most trains still run on electricity from large supply stations. This means that the transformed electrical energy from a train is transmitted to the grid, and the grid then allocates a portion of that energy to other trains nearby.

"If there are no trains nearby however, the electricity is wasted. We propose that trains are equipped with on-board energy storage devices, so they can absorb the energy generated through the regenerative braking themselves, and release it whenever they need to accelerate."
Enhanced Performance Coupled with Reduced Carbon Emissions
Chaoxian Wu added that he and his team have created the ideal discharge and charge operation model for on-board storage devices. This will enhance a train's performance and cut its carbon emissions. Wu gives an example:
"A train undergoes a process of acceleration, cruising, coasting, deceleration and pulling in. Right now, that process relies mainly on a train driver's decisions. But if the driver slows down too soon before entering the station, it has to accelerate again to reach where it needs to go.

"This process of accelerating and decelerating repeatedly leads to unnecessary energy consumption."
The new algorithm improves train performance in two ways. Firstly, it determines the precise time when a train should speed up or slow down in order to conserve energy. Secondly, it sets rules for how the on-board storage devices should discharge and charge for the most efficient operation. The right mix of speed optimisation and automated energy discharge will improve the trains of the future, Wu said.
Trains Will Save 10 Percent More Energy with On-Board Energy Storage Devices
He continued:
"By adopting this model, trains with on-board energy storage devices will save ten per cent more energy than those without them," he says.

"Given the millions of train journeys that take place in China's spring festival alone, that 10 per cent saving could make a huge difference to our environment by significantly reducing a train's carbon emissions."
The Young Scientists Funding Programme provided funds to the project under the National Natural Science Foundation in 2016. The research team entitled its paper 'The Study of Train Speed Trajectory Optimisation with On-Board Energy Storage Device'. The journal published it in December 2018.
Chaoxian Wu worked closely with two students at the university, Wenrui Zhang and Zhaoxiang Tan, in writing this paper.