We Need to Talk about Phones – Distraction Kills
Normally, when we talk about the dangers of using mobile phones in a transport-related context, we're talking about cars. We're talking about people who use their phones while driving and are therefore distracted, making them far more likely to cause an accident leading to injury or death. In fact, according to the Royal Society for the Prevention of Accidents, drivers who use a mobile phone while driving are four times more likely to crash, injuring or killing themselves and other people. And this is true for both hand-held and hands-free devices, because the problem comes from the mental distraction and divided attention. As a result, we here in the UK have a law that if a driver gets caught using a hand-held device, there is a fixed penalty and 3 points are added to the licence. The law does not currently cover hands-free devices but if we use a facts-based approach, that should probably change.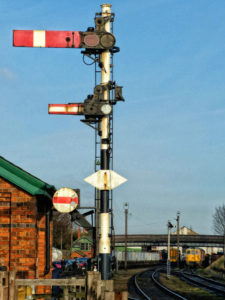 Bad Aibling Case Goes to Court
However, you might be wondering why I'm writing about this in a railway publication. You might remember that back in February we reported on a train crash in southern Germany, near Bad Aibling, where 12 people ended up losing their lives and 89 were injured.
This case has now gone to court – with a verdict scheduled for 5 December – and more information has come to light.
According to the German newspaper Die Zeit, the 40-year-old train dispatcher Michael P., who is accused of negligent homicide, has confessed in court, saying he had been playing on his mobile phone at work, despite this being forbidden, until shortly before the crash, violating his duty of care. As a result, he gave an incorrect special signal he should not have given. He did not check to see if the tracks were free before giving the signal that said they were. He then failed to make the correct emergency call after realising his error. Die Zeit reports that Michael P. spoke directly to the loved ones of those who died, saying, 'I know I can't undo what I've done, even though there's nothing I wish for more.' The newspaper notes that DB Netz said the maximum speed on that section of track was 100km/h. 'The force of the crash was correspondingly devastating'.
Our phones might be smart, but we have a long way to go towards being smart in the way we use them.
No text message, no call, no online game, no tweet is worth the lives lost and the lives distraught as a result of an avoidable lack of concentration when you hold other people's lives in your hands. Distraction kills. Don't do it. Don't condone it.