UN Campaign Releases Details of Climate Action in Rail
The UN has launched a campaign to showcase the actions being taken by companies, investors, cities and regions to combat climate change. Following COP21 climate change conference in Paris last year, which created massive interest in climate change action, around 50 new actions have been posted on a UN portal which was created to showcase private sector and local authority initiatives. The new commitments will join more than 11,000 initiatives already registered on Non-State Actor Zone for Climate Action site (NAZCA).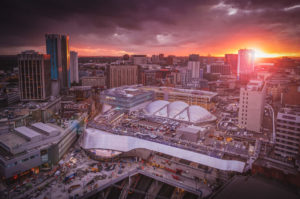 The UN Framework Convention on Climate Change (UNFCCC), which manages the portal, also launched a global public awareness campaign titled 'We're Accelerating Climate Action' this week. It is intended that it will inspire other parties to make similar commitments.
Christiana Figueres, Executive Secretary of the UN Framework Convention on Climate Change (UNFCCC), said:
"More than 11,000 cities, regions, companies, investors, and civil society organisations have so far pledged actions with many of these now logged under NAZCA.
"The mobilisation, commitment and ambition of so many so-called 'non-party stakeholders' was a key to the success of realising the Paris Agreement. Moving and motivating even higher ambition from those already committed and broadening the numbers and geography to ever more cities and companies will be a crucial key in assisting governments in implementing their aims swiftly, sustainably and at scale."
Climate Action Rail
With the manifest advantages of rail over other forms of passenger and freight transport in terms of carbon emissions, and the key role light rail systems in particular play in urban planning, rail features prominently among the commitments.
Among the cooperative initiatives including the 'Low-Carbon Sustainable Rail Transport Challenge', which aims to reduce emissions (at 1990 levels) from train operations by 50% by 2030, and 75% by 2050. This is an entirely achievable target, with carbon emissions from rail already reduced by 22% from 1995/6 levels in the UK, for instance. As compared to an 8% reduction from road and a 5% increase from domestic air travel, it certainly highlights the environmental sustainability of rail over other modes of transport. The initiative is supported by many major rail companies in the world, as well as civil society organisations. It sets out a timetable of action with concrete actions and goals.
The Public Transport Declaration on Climate Change, which aims to double the share of public transport by 2025, is supported by Bombardier, Knorr-Bremse and Systra, among others, as well as 115 regions and cities. The initiative is led by UITP, who have committed to undertaking consultations and and obtaining the support of their members internationally.
Hakima El Haité, Morocco's Minister of the Environment, said:
"The Climate Action Agenda does more than complement climate policies. With its bottom-up dynamic, it makes the entire society an agent of change and this is exactly what we need".
The virtue of this initiative is to showcase that action is not being taken. Climate change is an issue which can feel, to individual citizens, companies and cities, and even countries, to be overwhelming. The unprecedented impact of COP21 has galvanised individuals to take collective action.