California Governor Gavin Newsom has announced more than 2.5 billion USD in funding for 16 ongoing public transport projects that will expand and improve transit and passenger rail services throughout the state.
This is part of a multiyear, multibillion-dollar investment to upgrade California's transit system to enhance mobility options and reduce dependence on driving.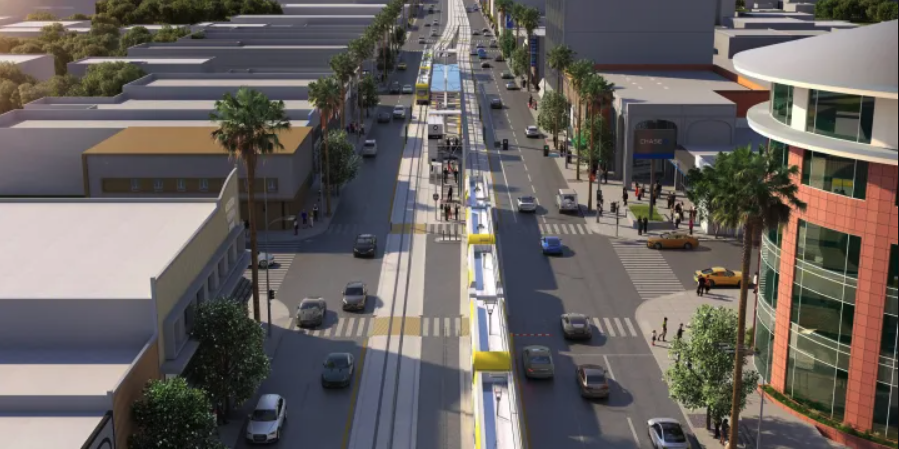 The grants are administered by the California State Transportation Agency (CalSTA) as part of the Transit and Intercity Rail Capital Program (TIRCP).
"The projects funded represent critical transportation and will provide alternatives to driving with access to a modernised, public transit system. California is unwavering in our commitment to our world-leading climate agenda, including record levels of investments in public transportation projects to electrify fleets, expand and improve service, and spark ridership growth."
The projects receiving funding include:
600 million USD for LA Metro's East San Fernando Valley Transit Corridor project to complete the 6.7-mile light rail segment between Van Nuys/Orange Line and Van Nuys/San Fernando
407 million USD for the Inglewood Transit Connector automated people mover, which will support the 2028 Olympics
375 million USD for the Santa Clara Valley Transportation Authority's BART Silicon Valley Phase II extension project, which will bring BART service to downtown San Jose and Santa Clara
367 million USD for the Peninsula Corridor Electrification project, which is electrifying Caltrain rail services and acquiring new electric multiple unit trains for improved and more frequent services
142 million USD for the Valley Rail project throughout the Altamont Corridor Express and San Joaquin service areas
A list of all recipients can be found here.
"These historic investments in transit and intercity rail projects will help get these transformative projects over the finish line and into operation so the people of California can enjoy more of the mobility, safety, environmental and equity benefits that come with riding transit. With billions of additional state investments in the pipeline, more upgrades are on the way – putting California transit agencies in a strong position to compete for significant federal infrastructure funding to deliver even more improvements."