Advanced utility work has begun on the first segment of the East San Fernando Valley light rail project in Los Angeles County, California.
This will be the first rail line built in the valley since the Metro Red Line subway was extended to North Hollywood in 2000.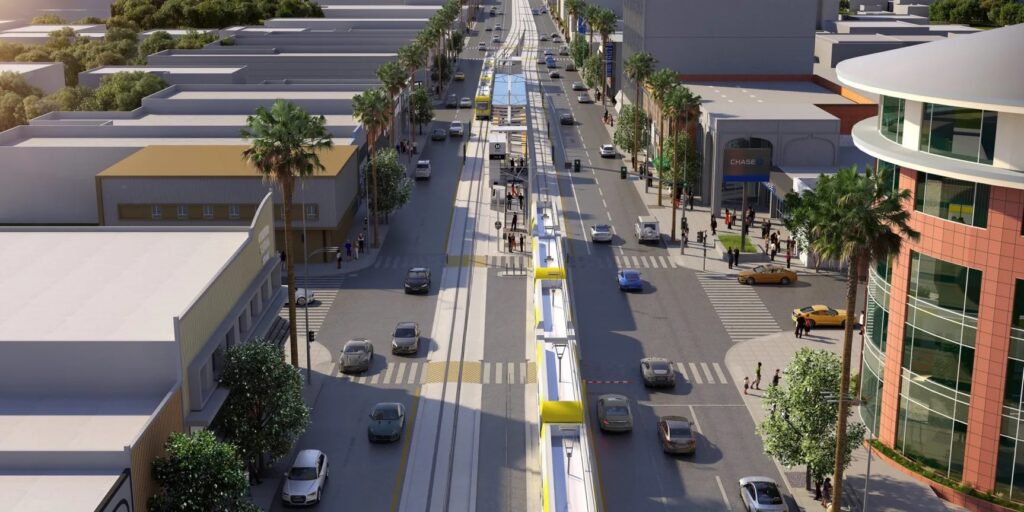 The project is estimated to cost between 1.6-2 billion USD (1.52-1.89bn EUR) and had been part funded via Metro's local Measure M voter-approved sales tax measure, which supports transportation improvements across the county.
The 6.7-mile line will include 11 new stations connecting Van Nuys, Panorama City, Arleta and Pacoima via Van Nuys Boulevard, one of the area's busiest thoroughfares.
It will provide improved connectivity for passengers with links to Metro bus, Metrolink and Amtrak services, changing how the valley connects to Los Angeles's larger regional transit system.
W.A. Rasic Construction was awarded the nine million USD (8.51m EUR) contract to relocate existing water and power infrastructure along Van Nuys Boulevard ahead of major construction.
A groundbreaking ceremony was held on 2 December, attended by officials including Metro CEO Stephanie Wiggins, Los Angeles Mayor Eric Garcetti and Director of FTA Region 9 Charlene Lee Lorenzo.
"Bringing light rail to this part of the city will do more than just help clean our air and give people a new way to get around without traffic — it will connect two halves of our city and serve as a major step toward redefining the car culture that has long shaped Los Angeles."
Metro plans to award the main construction contract in early 2023, with the line scheduled to open between 2028 and 2030.
A further 2.5-mile extension is planned to link Pacoima to the Sylmar/San Fernando Metrolink Station. This will add three new stops to the line.
Designs for this part of the project are currently being reviewed with building scheduled to take place during a second construction phase.