Rail safety specialists, Zonegreen, have successfully concluded a two-year installation of their flagship Depot Personnel Protection System (DPPS) at the Crown Point maintenance facility in Norwich.
Zonegreen returned to the depot last month to equip a final two roads with its innovative safety system, taking the total number of protected roads to five.
Zonegreen's project is part of a large scale development to prepare Crown Point for housing and maintaining 58 new Stadler FLIRT Trains. The firm has worked with main contractor, Taylor Woodrow and depot operator, Abellio Greater Anglia, to install DPPS in three phases, enabling maintenance staff to continue working throughout.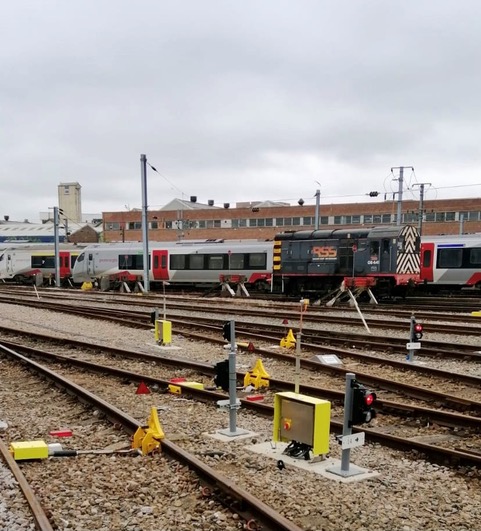 In the final stage of the project, Zonegreen fitted DPPS on roads 12 and 13. Staff now log onto road end panels that operate the system via personalised, electronic datakeys with varying levels of authorisation. This prevents powered wheel stops from being lowered, providing physical protection from moving vehicles; creating safe zones for personnel in which to work.
Beacons and klaxons accompany the installation, offering visual and audible warnings of vehicle movements. A signalling interface controls outbound movements that only allows routes to be set only when staff have logged off the system and it is safe to do so. The two roads have also been linked to Zonegreen's Depot Manager software, which displays the status of DPPS, provides the names of personnel logged on and logs a permanent record of activity.