Zonegreen Assures Worker Safety at Willesden Depot
Rail depot safety specialist, Zonegreen, is using its flagship technology to help staff maintaining London's overground fleet avoid accidents when working at height.
The Sheffield-based engineers have installed an interlocking system that prevents personnel and equipment entering dangerous areas and coming into contact with overhead lines at Bombardier's Willesden depot in Harlesden.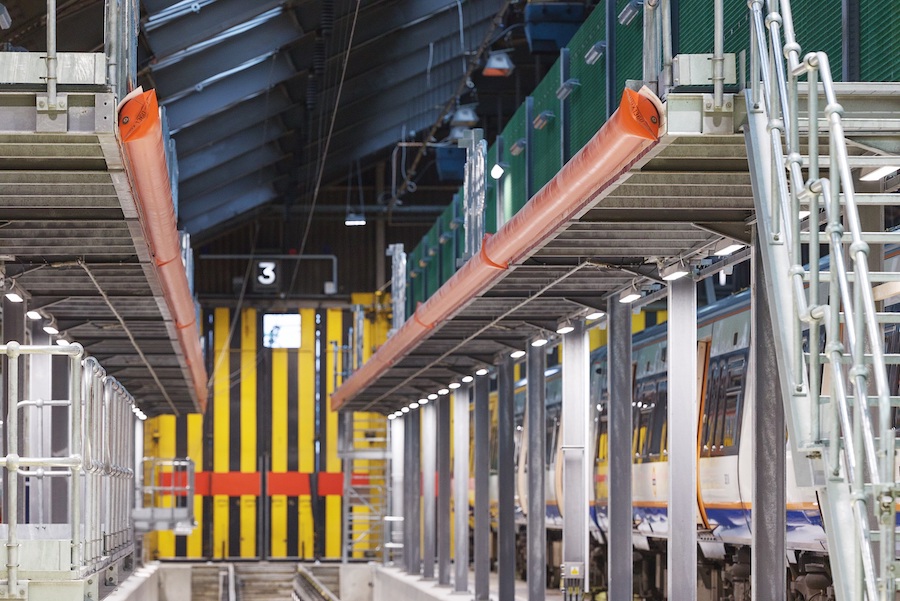 Zonegreen's advanced interlocking system technology not only protects staff from the dangers of electrocution, inhibiting access to high level gantries through the use of interlocked gates, but also from the risk of falls from height.
By interfacing with the GapSafe system – inflatable bladders that close the space between the maintenance platform and train, preventing injury to workers and damage to equipment – Zonegreen enabled it to inflate automatically when the first gantry gate is unlocked. This ensures staff are in a position of safety whilst setting up a safe system of work, eliminates human error and protects personnel working at height.
When the depot's overhead line is isolated, the gantry gates are unlocked and GapSafe is in place, green beacons illuminate above the respective road to indicate it is completely safe to enter.
Christian Fletcher, Zonegreen's technical director, said:
"High voltage equipment and working at height make rail depots undeniably high-risk environments. We believe by using technology to remove the human element from safety procedures, we can absolutely prevent access to unprotected areas and dramatically reduce the number of avoidable accidents.

"Our interlocking system is so flexible it can be adapted to all sorts of third party depot equipment. The interface with GapSafe at Willesden is the perfect example of how advanced technologies can be used together to provide a fully integrated, fully automated approach to safety."
Zonegreen's has developed sophisticated interlocking systems for rail depots across the UK, Ireland, Australasia and the Middle East. For more information, telephone +44 (0)114 230 0822 or visit www.zonegreen.co.uk