Union Pacific Railroad Increasing Train Speed on Rail Line in Wichita
Recent track upgrades meeting or exceeding all applicable Federal Railroad Administration standards will allow Union Pacific Railroad to increase the speed of its trains from 30 mph to 49 mph on nearly four miles of its rail line in Wichita, Kan., between near 63rd St. and just north of the Arkansas River.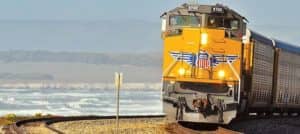 Increased train speeds typically reduce motorist wait time at crossings, enhance safety and help Union Pacific more efficiently deliver the goods American businesses and families use daily. The U.S. freight rail network is the safest, most productive and cost-efficient freight rail system in the world.
Union Pacific will increase train speeds by five mph beginning December 1, 2013, and an additional five mph on December 8, 15 and 22 and by another four mph on December 29, when the new maximum speed limit of 49 mph goes into effect.
Union Pacific invested nearly $10 million in track improvements to its line between Wichita, Kan., and Medford, Okla., this year which was instrumental in enabling train speeds to be increased in Wichita.