UITP 2017 Global Public Transport Summit: Call for Contributions
A call for contributions has been issued for the UITP 2017 Global Public Transport Summit. The opening date for contributions is 17 May 2016. The summit will take place on 15–17 May 2017 in Montreal, Canada. UITP, the international public transport advocacy group based in Brussels hold a summit every two years to address the most pressing issues in the public transport industry. The themes of 2017's summit will be digitalisation, environmental sustainability and the emergence of new groups and companies in the sector.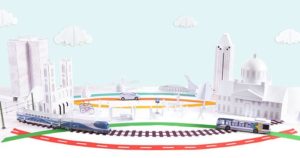 UITP boast an ethos of innovation, forward-thinking and ethical urban planning to improve quality of life and information-sharing, which will be at the heart of the summit. The call for contributions reflects this. 2017's theme is titled "LEAD the TRANSITion", looking at the challenges in identification of the conditions and challenges facing the PTx2 Objectives. These objectives were launched in 2009, to double the market share of public transport in order to improve the lives of citizens and reduce carbon emissions in urban centres.
UITP claim that doubling the uptake of public transport, including trains, metros and buses, would:
"Save around 170m tons of oil and 550m tons of CO² equivalent; reduce urban traffic fatalities by 15%; double the number of jobs in public transport operators as well as reduce the risk of obesity and heart disease by 50% thanks to the greater role of walking, cycling and public transport."
UITP 2017 Global Public Transport Summit Call for Contributions
In order to achieve this goal, and remain relevant in the growth of public transport as populations become increasingly urbanised, the UITP 2017 Global Public Transport Summit has issued a call for contributions for papers and sessions to address one or more of the following topics:
Urban mobility and the urban and social transition
Digitalisation
The move towards increasingly energy efficient urban transport systems
Greater entrepreneurship to become customer service leaders
The call goes out to individuals and organisations who have experience in policy, systems and actions directly related to the above topics. Proposals are to be submitted between 17 May and 11 July 2016. Interested parties can download the information pack on UITP's website.