Transnet Increases Capacity on Coal Line
South African freight logistics company Transnet have marked the completion of the first phase in the expansion of the coal line between between the Waterberg in Limpopo and Richards Bay, KwaZulu-Natal. The occasion was marked at a ceremony attended by Public Enterprises Deputy Minister, Mr Bulelani Magwanishe on 14 July 2016.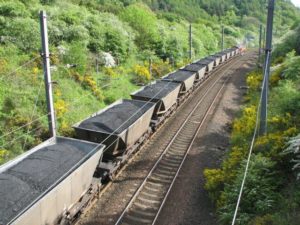 The completed works include the construction of a 1.8km long passing loop at Matlabas. The loop will allow 100-wagon trains to cross without interfering with other trains operating on the line. The project will deliver significantly improved capacity on the line, as well as making operations more efficient and deliver faster turnaround times.
The loop has increased capacity between Lephalale in the Limpopo Province and Richards Bay Coal Terminal from 400,000 tons to 2 million tons of coal every year. It has also allowed Transnet Freight Rail to increase the number of services it offers from two trains to five trains a week. Before the completion of the project, the Matlabas loop could accommodate 50-wagon trains.
This project has been a fundamentally important part of Transnet's improvement programme. The programme, which will see R21.8 billion spent on rail infrastructure over the next seven years, will increase rail capacity on the export coal line to 81 million tons.
The second of a total of five phases of works to be carried out on the Waterberg Line is already underway, and will increase the current capacity from two million tons of coal to six million tons every year. The second stage works include:
The construction of a 2.8km loop at Thabazimbi;
Building a new 5km line to connect the loops at Bleskop and Norite;
Creating a double line section; and
Building a new 7km line linking loops at Dam and Onderstepoort and creating another double line section.
The works will allow long trains to pass without disrupting other services. When the second phase is completed, services will be increased from one jumbo wagon train a day to three big trains a day.