Train Services Resume on Britain's Most Iconic Railway
The Settle-Carlisle line reopened to train customers on March 30th after more than a year of repairs by Network Rail's orange army engineers to a 500,000-tonne landslip, which had threatened the future of Britain's most iconic railway.
Martin Frobisher, managing director of Network Rail's London North Western route, said:
I am beyond thrilled that customers and goods are moving again on this vital economic artery through Britain's most beautiful landscape. Our orange army has ensured that even if the ground gives way again in future, the railway will not.
Settle-Carlisle Line
This section of line was shut to trains on 9 February 2016 at Eden Brows, near Armathwaite village, south of Carlisle, after Network Rail's aerial surveillance and track monitoring teams detected the ground slipping beneath the railway towards the River Eden 70 metres below.
Over the next several weeks a 100-metre section of track subsided 1.5 metres. Buses would replace Northern train services along this stretch of line until the railway was made safe and repaired.
Network Rail's Most Challenging Railway Repair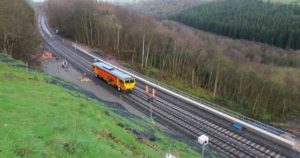 The size and scale of the repair job coupled with the inaccessible location and the fact the ground was still on the move made this the biggest repair challenge Network Rail has ever faced.
After careful deliberation engineers chose a piling solution: two rows of high-strength piles – steel tubes filled with concrete – driven into the sloping bedrock, forming a corridor upon which a one metre-thick, 100 metre-long concrete shelf has been placed. This is the solid base for the railway.
Committed to Improving Britain's Railways
This is an excellent example the government's vision for the future of our busy rail network – one that is run by an integrated team of people with a commitment to improving services for the benefit of passengers.
Network Rail, contractors and train operators have together worked hard to get this historic line – which first opened 130 years ago – running again. Our railways are crucial to our economic future and whether it's improving services or completing essential repairs, the commitment is the same. That is why I am delighted to be part of this event marking such a significant moment.
Paul Maynard, rail minister, said:
After the first Northern service out of Carlisle at 05:50, Flying Scotsman, hired for the day by the Keighley & Worth Valley Railway, is making a one-off chartered trip from Keighley via Settle, Appleby and Armathwaite, arriving into Carlisle at 13:05.

It is great to be back in business. We shall be working tirelessly with the railway industry to ensure the line regains its role as a through route to Carlisle and Scotland as quickly as possible – and to seeing the splendours of the Eden Gorge from the trains again. Well done Network Rail and its contractors.
Original article © Network Rail.
FOR ALL THE LATEST INFORMATION, NEWS, IMAGES, VIDEOS AND ARTICLES ON ALL ASPECTS OF INFRASTRUCTURE, PLEASE CLICK HERE.