Global transportation activity is expected to double by 2050, leading to a 16% rise in emissions, even when accounting for current commitments to decarbonising operations.
The railway industry significantly contributes to this, with passenger and freight operations consuming large amounts of carbon-based fuels and other natural resources.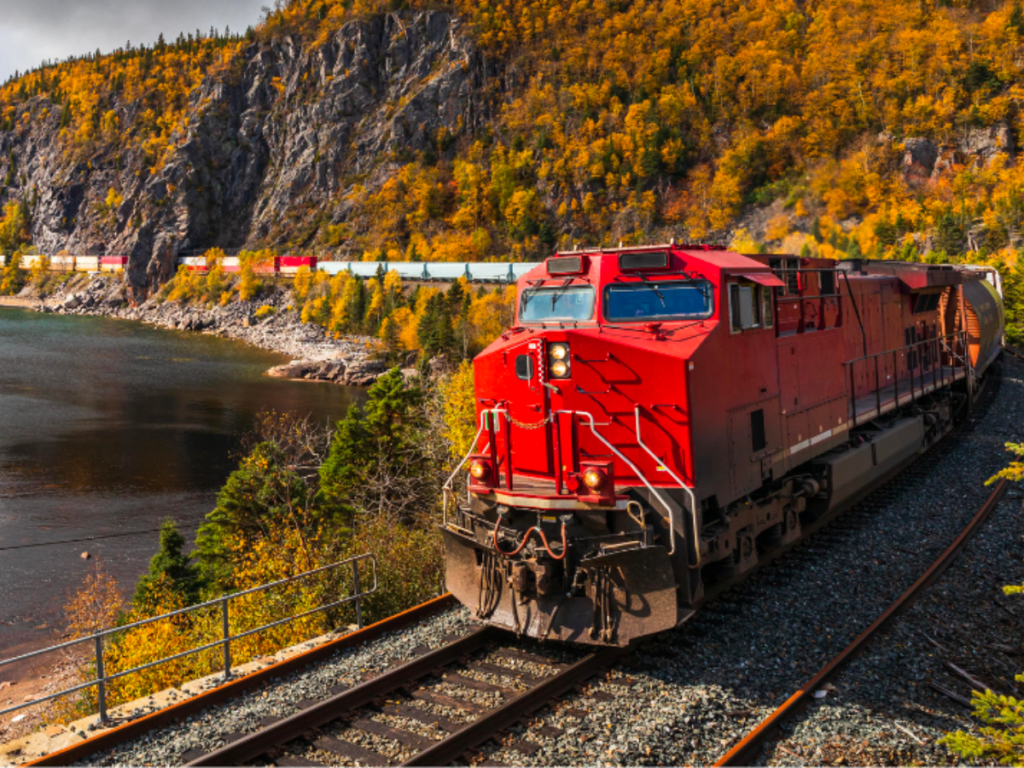 While the industry is committed to change, it faces several significant challenges regarding reducing greenhouse gas emissions and improving overall sustainability.
A Need for Change in the Railway Sector
The railway industry is among those working to meet the United Nations Sustainable Development Goals, adopted in 2015 to help end poverty, protect the planet, and improve the standard of life globally by 2030.
Despite its contributions to greenhouse gas emissions, the worldwide rail network is surprisingly energy and carbon efficient. From the earliest days of mining carts and trams pulled by horses, the efficiency of steel wheels on steel rails has been unsurpassed. The fundamental physics of low friction answers why trains are a sustainable transport mode in terms of energy efficiency in operations.
Today, rail networks carry 8% of the world's passengers and around 7% of global rail freight. However, sustainable rail transport represents only 2% of total transport energy demand.
Compared to other modes of transport, the environmental sustainability of rail networks is considerably higher. For example, freight rail operates with fuel efficiency up to four times higher than road-based heavy goods vehicles (HGVs) on a ton-mile basis. US rail freight operator Union Pacific reports one locomotive can move one ton of freight more than 400 miles on a single gallon of diesel fuel. This generates a carbon footprint 75% smaller than an HGV over the same distance.
Public transport is up to 12 times more energy efficient per passenger than commercial plane travel. Of course, train travel is not an option for longer-haul flights. However, it can be an alternative to many shorter flights and/or road journeys.
Given the expected rise in global transport activity in the coming years, the increased demand will likely offset any emissions reductions. Consequently, if the railway sector wants to become a meaningful contributor to meeting global climate change goals, it needs to accelerate its efforts toward sustainable rail transport.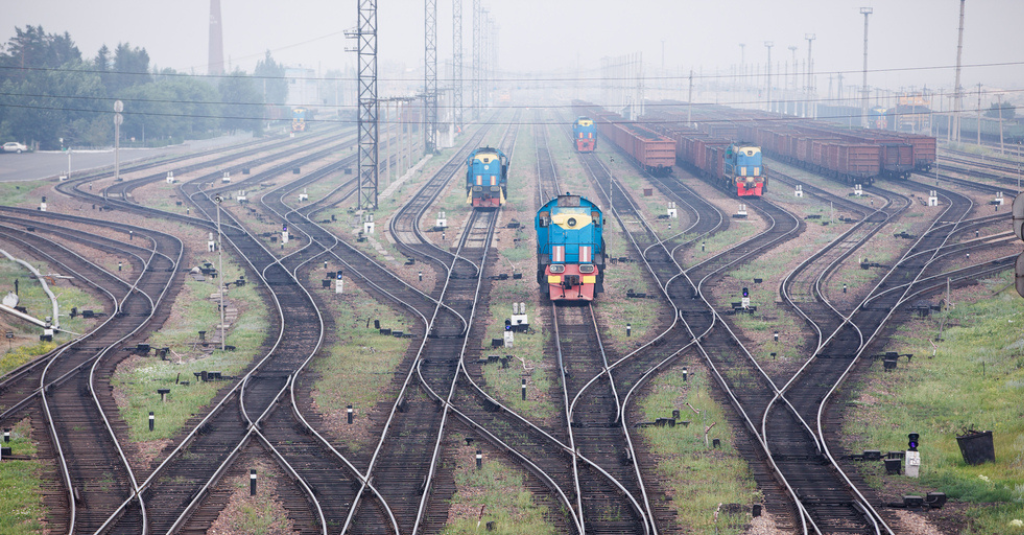 Challenges to Sustainable Rail Transport
The International Energy Agency (IEA) reports that by diversifying energy sources and providing more efficient mobility, the rail sector can lower fuel consumption and reduce carbon dioxide and local pollutant emissions. The International Transport Forum (ITF) proposes that transport carbon emissions can be reduced by up to 70% through 2050 with support from effective policies.
Railways are one of the most energy-efficient ways to transport goods and passengers. Still, there are significant challenges to making rail transport more sustainable and increasing freight rail market share.
About three-quarters of passenger rail travel takes place on electric trains, making rail the only mode of transportation widely electrified today. Because of the various ways electricity is generated, the passenger rail sector is also the most energy-diverse mode of transport.
However, despite being less polluting for the communities they operate in, electrified railways still rely on pollution sources such as coal or gas-fired power plants for an electrical generation unless renewable energy or nuclear power options are available.
Freight trains are powered by some of the earliest hybrid engines: diesel-electric locomotives. Developed in the 1950s, these locomotives blend electric and fossil fuel motors. The diesel engine generates electricity used by traction motors at each wheel to provide pulling power. North America, Russia, and China have the highest rail freight tonnage, primarily relying on diesel-electric hybrid locomotives.
Alternative fuels and power sources need to be developed to reduce emissions from train operations.
Resource scarcity is another factor for the industry to consider. Currently, humanity uses resources 50% faster than nature can regenerate them, while some resources will not regenerate.
Organisations such as the International Union of Railways (UIC) are working to promote more sustainable infrastructure. They do this by carefully using resources (ballast, concrete, steel, water, etc.).
This reduces external costs through careful monitoring and noise control and reduces airborne particulates. These, in turn, contribute towards the United Nations' Sustainable Development Goals to combat climate change.
To succeed, the drive for sustainable rail transport must outpace the growth in emissions caused by increasing demand over time.
How to Build a More Sustainable Rail Transport
Sustainability is defined as fulfilling the needs of current generations without compromising the needs of future generations while ensuring a balance between economic growth, environmental care, and social well-being.
With this in mind, the rail industry is well-positioned to build on its inherent efficiency and become a leader in the transportation sector. Below are some key considerations when planning for the future of the rail industry:
Shift Modes
Rail freight is often limited to moving high volumes of heavy commodities. These include minerals, coal, and agricultural products in countries like the U.S., Russia, and China. Intermodal traffic, which puts ocean and truck containers on rail cars, is also a significant segment of the global supply chain. But there's more opportunity to shift freight from roads to rail freight.
For example, 65% of freight in the US moves by road, compared to just 8% by rail. The goal is to transport more goods and passengers on rail networks for sustainable rail transport. Intermodal service is one result of this effort. Shipping containers and trailers move on the rails over long distances, with just the final mile delivery completed by road. It's a critical element of supply chains, reducing pollution and taking advantage of rail freight's inherent energy efficiency.
According to the Association of American Railroads, if 25% of the road traffic moving at least 750 miles was moved by American railroads instead, annual fuel savings would be around 1.2 billion gallons, and annual carbon emissions would fall by approximately 13.1 million tons. That's the equivalent of taking 2.6 million cars off the road for a year or planting nearly 200 million trees.
Railway infrastructure must be constructed efficiently and powered by renewable energy sources to shift passenger traffic. The infrastructure should also have attractive services to lure people away from higher-emissions alternatives.
The French government is encouraging Air France to no longer provide short-haul domestic flights if a viable rail alternative exists. However, in the U.S., short-haul flights are more likely to be replaced by car travel. Government policies such as congestion taxes for cars and investments in passenger rail infrastructure can help incentivise higher levels of passenger usage and improve sustainability in public transport.
Collaboration
Transport decarbonisation must be integrated with developments in other sectors. Sustainable mobility is only possible with clean energy. At the same time, low-carbon transport is central to sustainable trade and tourism.
In China, the IEA has proposed a railway expansion project that could decrease transport emissions by 12%, including more than 100,000 kilometres of high-speed track.
The rail industry must also work with other transport providers, customers and passengers, urban planners, and other stakeholders. This is to make transportation part of a sustainability platform through greater adoption of rail.
Technology Innovation
New technologies can also improve train operations and sustainability with minimal investment. For example, reducing idling while waiting for passing trains to enter or exit freight yards can keep services moving while lowering emissions. Using rugged mobile devices to inspect railway carriages and track repairs helps maintain efficiency with current assets, reducing the need to build more. Innovations like acoustic monitoring can also identify equipment defects before they occur.
In the passenger segment, rail operators can use data to meet customer expectations for flexibility, real-time travel information, omnichannel ticketing options, and transparency with a Smart Rail Route Map.
Rail operators can also employ rugged mobile devices to put information and controls closer to the front lines for faster response. For example, passenger stations can monitor environmental conditions for comfort and safety. Workers with rugged tablets can make data-driven decisions on the spot.
Sustainable Rail Transport FAQ
The rail sector is one of the transport modes for people and goods worldwide. Consequently, the industry plays a vital role in the global economy and environment. The rail industry contributes to environmental sustainability in transport.
How Big is the Railway Industry?
The world's rail networks span more than 1.3 million route kilometers worldwide. The United States is home to the most extended railroad network globally, closely followed by Russia, China, India, Canada, Germany, and France. The global rail transport market is valued at nearly $500 billion.
What Are the Advantages of Railways?
Rail transport is one of the most energy-efficient transport modes in the world. Increasing its market share of freight and passengers could help global economies reach net zero carbon emissions goals and lower energy consumption.
How Can Railways Be Sustainable?
Rail transport is the most sustainable mass transit system. This mode of transport provides an energy-efficient way of transport that reduces carbon emissions. Public transport by rail enables passengers to travel three times faster than transport on the road.
How Can the Railway System Contribute to a Sustainable Future?
Passenger transport can connect roads and airports, providing a sustainable alternative to less viable transport modes. The rail freight industry offers a sustainable alternative to roadway transport, with a single freight train able to move the same amount of freight as hundreds of trucks. Rails provide a critical component of tackling climate change by reducing carbon emissions.
What Will Be the Future of Railways?
The opportunity to divert freight from road to rail is significant. New technologies will help railways provide a higher level of service, even using existing railway infrastructure. At the same time, opportunities for greater use by passengers can help reduce road congestion and the harmful pollution that comes with it. This will help improve the standard of living in many cities.
Sustainable rail transport is one of the four key megatrends Getac is monitoring, both now and in the future. Through collaboration with rail operators, Getac has gained extensive experience in developing the tools and technological solutions needed to help the industry tackle these challenges and maintain the rail system as a prioritised transportation alternative. Learn more about the four megatrends shaping the railway sector through the rest of the decade and beyond.
This article was originally published by Getac Technology.