Thales Solution Enables 400million UK Passengers per Month to Plan Their Journey
Thales's transportation business in the UK has developed and operated Darwin since 2003, a solution which provides real time train information to passengers across the country. Darwin gets 400 million hits per month and on average 3 million enquires per day, allowing passengers to easily access up-to-the-minute information about their journey. After further development, Darwin is now the sole platform of this critical information to all of the UK's 2,000 CIS (Customer Information System) enabled stations as well as via the National Rail Enquiries website.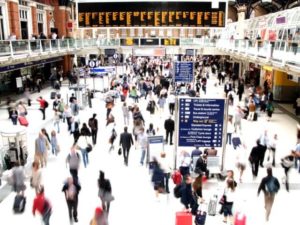 Darwin Travel Information 
The Thales team in the UK has worked closely with the Rail Delivery Group (RDG) to develop the system and roll Darwin out nationally, making it key in improving passenger experience. Darwin collates data from various sources across the rail industry to create a 'single source of truth' which ultimately provides passengers with accurate and consistent journey information displayed on Live Departure Boards at stations and online via the National Rail Enquiries website, many smartphone applications and on train operator websites.
Shaun Jones, VP Thales Transportation in the UK, commented:
"The news that Darwin now gets 400 million hits per month is testament to how well-received it is by both the public and the customer. It has been a major contributor in improving the journey experience for passengers, giving them greater confidence in their rail service by providing useful and consistent real-time information to passengers across different platforms."
Jacqueline Starr, Managing Director for Customer Experience at the Rail Delivery Group, said:
"Our customers tell us that they want better information, especially when services are disrupted, and this project is an important step towards addressing that need. Many rail passengers will be familiar with the panic that sets in when they are waiting for a train and the screen on the station platform tells them one thing but the app on their phone says another. The improvements we're making today should bring an end to those moments."
Today's rail passengers are becoming ever more reliant on their smartphones to make their everyday lives easier and Darwin is a major step forward in modernising train travel.