Ten Years of Developing Tram Assistance Systems at Bosch Engineering
Greater Safety in City Rail Transportation
Successful transfer of proven automotive technology to the track
Automatic braking function already increasing the level of safety in city rail transportation today
Reduction in tram accidents by up to 40% after installation of collision warning system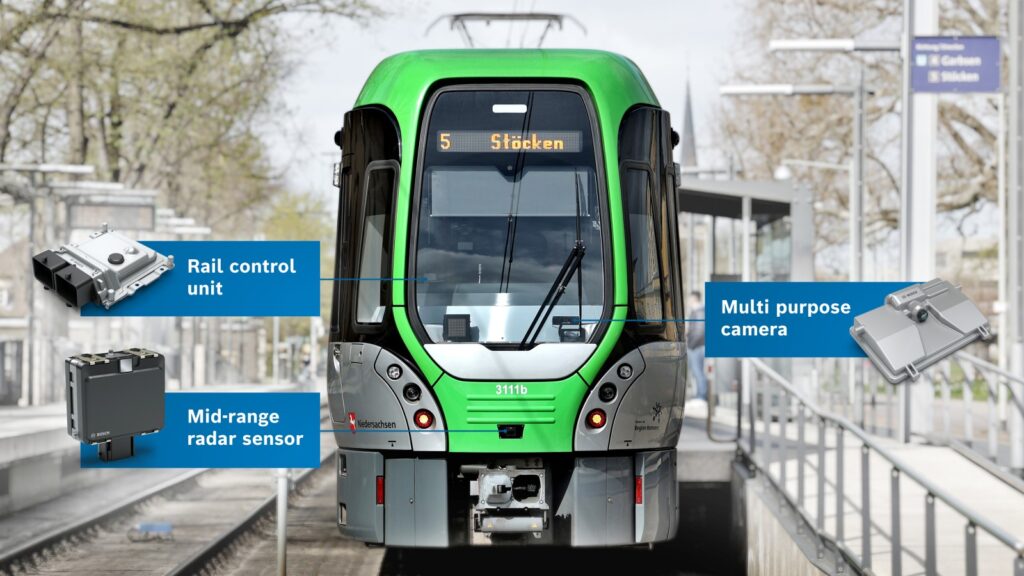 Inattentive traffic participants who suddenly walk or drive in front of the tram present a high risk of accidents, especially in the dense, chaotic traffic of today's city centers.
"To minimize the risk of collisions in city rail transportation and to reduce stress for the drivers, we started a development project for driver assistance systems more than ten years ago which are designed especially for trams."
Since 2017, Bosch Engineering's tram forward collision warning system (TFCW) has been used in passenger operations. Once an object is perceived in the detection area, the system warns the driver visually and/or acoustically of the obstacle and even brakes the tram automatically until it stops if the driver fails to react to the warning or does so too late. After the installation of the system in a German city, for example, the number of tram accidents declined by more than 40%, although the number of trams in operation increased. Currently, around 1.200 TFCW-systems are installed in trams in Europe, Australia, and North America.
Bringing Automotive Technology onto the Track
Bosch's wide-ranging expertise from the automotive sector forms the foundation for the assistance systems in city rail transportation. This applies to both the proven hardware, such as sensors and electronic control units, used by the millions in the passenger car and commercial vehicle sector and to the software and development methods. Components are chosen from the modular system and then tailored to the specific requirements of tram operation and the individual topographical and urban planning specifics for the region in which they are used.
"By transferring the technology from the street to the track, we are able to develop assistance functions for city rail transportation with a high technical standard and degree of maturity."
For example, the basic functions of the system have been optimized in the past years to better detect pedestrians in situations with poor visibility and provide additional safety when moving through tunnels.
For future expansions of the system, other assistance functions known from the passenger car segment will be adapted for use in rail traffic. Tram drivers will then be supported to a greater extent in their daily range of responsibilities and the risk of an accident will be minimized even more.
This article was originally published by Bosch Engineering GmbH.