Strukton Win Trafikverket Contract
Strukton Rail has won two Trafikverket maintenance contracts in Stockholm. The contracts, relating to Stockholm Citbanan and the railway which runs through central Stockholm, allow for services to provide preventive and corrective maintenance of the tracks, electrical systems and signalling technology, and 24 hours fault clearing services.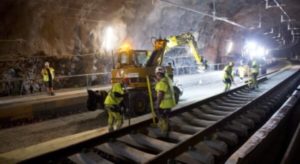 Citybanan
The new Citybanan double track commuter line is a 6km long commuter line which runs beneath Stockholm centre. The line will begin operate passenger services in 2017. The line was originally constructed by Strukton Rail. The new contract will make Strukton responsible for maintenance once the line is in operation. The contract is for a duration of five years, beginning from 1 September 2016.
The Citybanan, which runs from Årstabron south of Stockholm and connects to Mälarbanan in Karlberg, just north of Stockholm Central Station, will allow long-distance trains and commuter trains to take different routes through Stockholm. Commuter trains will operate on the Citybanan in tunnels below ground, while long-distance trains will operate overground through the Central Bridge to Stockholm Central. The double rails will provide greater track capacity to commuter trains, benefiting long-distance rail traffic throughout the country.
Strukton Rail will be responsible for maintenance overnight and when the trains are not in service, checking the tracks and replacing parts as necessary. It will also detect and repair or replace parts when failures impact operations.
Central Stockholm
The central Stockholm railway is one of Sweden's oldest and busiest railway lines in Sweden. Around 550 trains operate on the line every day. Currently, the southern access to Stockholm Central Station is a bottleneck area, complicating maintenance of the railway throughout central Stockholm. The Citybanan will relieve this bottleneck when it begins operation in 2017.
The new contract will come into force on 1 May 2017, whereupon Strukton will continue in its role to maintain tracks, electrical systems and signalling systems from Stuvsta to Sörentorp and Tomteboda to Sundbyberg. The contract will last for a duration of five years, with two options to extend by a further one year.
Lars Schyllander, regional manager at Strukton Rail, said:
"We are very excited about this new contract for central Stockholm. We are responsible for the maintenance of the same tracks today, but the new maintenance contract also includes round-the-clock fault clearing services in case of faults during train services. This central and important position requires of course that we will be quickly on site if anything happens."