Sweden: Strukton Rail Win Trafikverket Track Renewal Contract
Strukton Rail have won a major track renewal contract from Swedish transport administration body Trafikverket. The contract relates to an 80km stretch of track between the villages of Boden and Bastuträsk in Upper Norrland in northern Sweden, with an option to add a further 8km.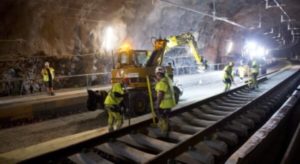 The first stage of the three-stage programme of works will be undertaken from April 2016, between Koler and Älsbyn. Stage two relates to Storblåliden–Koler, and stage three, Bastuträsk–Träskholm, is to be completed by October 2017. The renewal will include rails, sleepers and ballasts.
The line is primarily used by freight trains in the mining and forestry industries in northern Sweden. The line has recently been down due to broken rails and other issues relating to the deterioration of the track, which has impacted the industry in the area.
The original programme of works between Constance and Bastuträsk was postponed due to a budget vote in 2015, but the Swedish parliament have since reconsidered and formulated a new programme of works to replace the sleepers and rails of the track, as well as to clean the ballasts, on a total of 100km of the track.