Stainless steel fasteners are ideal for a wide range of applications, from construction to plumbing.
Due to their strength, durability, and corrosion resistance, they are the most popular choice for many industries. Let's discover together the main features of this material.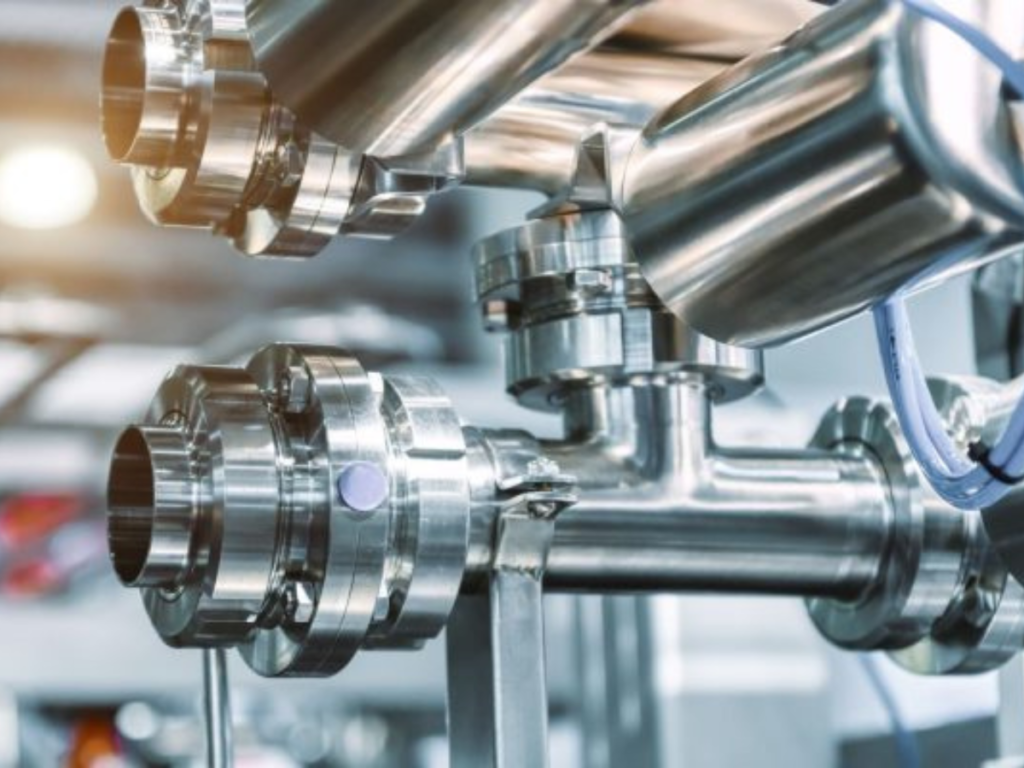 The Properties of Stainless Steel
Stainless steel is a metal alloy consisting mainly of iron, carbon, and more than 10 percent chromium. The presence of chromium produces a thin, dense, uniform oxide layer that is very adherent to the surface and not very reactive. This "passive layer" protects the surface from corrosion by preventing corrosive agents from coming into contact with the iron in the alloy.
In addition to varying amounts of carbon and chromium, stainless steel alloys may also contain varying amounts of other elements such as nickel, molybdenum, manganese, silicon, titanium, etc. The variation in the percentage (%) of these elements defines the type of stainless steel, its structural and mechanical properties, and its degree of corrosion resistance.
The use of stainless steel in mechanical applications presents many advantages. First, stainless steel fasteners provide a greater tightness than fasteners made of brass, aluminum, or galvanized steel. Therefore, they are usually employed in applications that require higher mechanical strength and are subject to corrosion.
Stainless steel fasteners, with their corrosion resistance, also have a longer service life even in highly alkaline and humid environments. Some types of stainless steel are also resistant to chemicals such as oils, solvents, and acids, so they are perfect for use in highly corrosive environments.
The main stainless steels can be divided into three macro-categories:
FERRITIC = (body-centered cubic crystal structure – ferrite) – Magnetic. They have good mechanical properties but low corrosion resistance.
AUSTENITIC = (face-centered cubic crystal structure – austenite) – Nonmagnetic. They have good mechanical properties and high corrosion resistance.
MARTENSITIC (body-centered cubic crystalline structure – Martensite) – Magnetic. They have remarkable mechanical properties and acquire excellent corrosion resistance only after annealing, quenching, and tempering.
Classification of Stainless Steel
Stainless steels can be classified according to their resistance to localized corrosion and, in particular, pitting. This classification is based on their chemical composition and the calculation of the Pitting Resistance Equivalent Number (P.R.E.N.) index. The higher this value, the greater the resistance to pitting.
Lean stainless steels do not contain molybdenum, and the typical value of their P.R.E.N. is around 25;
Standard stainless steels have a P.R.E.N. value between 25 and 40 (e.g., AISI 316);
Super stainless steels have a P.R.E.N. index ≥ 40;
Hyper stainless steels contain high percentages of chromium, and their P.R.E.N. value can be up to 50.
It is also very important to consider the grades of stainless steel, which indicate different ratios of chromium, nickel, molybdenum, and carbon. The grade determines resistance to corrosion, durability, resistance to high temperatures, and other characteristics of the material. For this reason, it is essential to know which grade is appropriate for the intended use of the fastener.
The 200 series (chromium-nickel-manganese) and the 300 series (chromium-nickel-molybdenum) are the most commonly used austenitic alloys for making stainless steel fasteners, specifically AISI 303 – AISI 304 – AISI 316, also called grades A1, A2, and A4.
AISI 303 Stainless Steel
It is a Cr-Ni austenitic, non-hardenable stainless steel with high resistance to galling due to its high sulfur content, which also gives it better workability in machine tools for chip removal.
It shows good resistance to corrosion in the atmosphere, toward foodstuffs and organic chemicals.
AISI 304 Stainless Steel
It is a Cr-Ni austenitic, non-hardenable stainless steel, the most popular and widely used of the 300 series, containing 18-20% chromium and 8-12% nickel. It has good resistance to corrosion, including intercrystalline corrosion.
Its use covers all industries, from mechanics to design, finding applications also in the food, pharmaceutical, chemical, automotive, marine, and aerospace sectors, as well as in kitchen furnishings, bars, restaurants and butcher shops, etc.
AISI 316 Stainless Steel
It is a Cr-Ni-Mo austenitic, non-hardenable stainless steel where the presence of molybdenum is necessary to give the alloy excellent corrosion resistance. The mechanical properties at high temperatures are also better than molybdenum-free types.
In jargon, it is called "marine grade" naval stainless steel because of its remarkable resistance to intercrystalline salt corrosion. It is composed of 16-18% chromium, 10-14% nickel, and around 2-3% molybdenum.
FAST-CON®, the Innovative Stainless Steel Fastener from Specialinsert®
From Specialinsert®'s many years of experience in the fastener industry comes FAST-CON®, a revolutionary patented metal snap fastening system in stainless steel that allows you to connect panels and coverings by simply pressing.
FAST-CON® can be used in a variety of applications with excellent results in terms of resistance to corrosion, wear, flame, and long service life compared to other types of fasteners.
For these reasons, it is suitable for the marine, transportation, construction, RV, furniture, industrial, and design sectors.
This fastening system consists of two male-female elements available in standard and customized versions.
Female: code FC-01-FE.51 in stainless steel 316; code FC-01-FE.53 in stainless steel 301;
Male: code FC-01-MA.51 in stainless steel 316; code FC-01-MA.50 in stainless steel 303.
Are you looking for the right stainless steel fastener for your projects? Contact our sales assistance to choose the best product based on the required characteristics.
This article was originally published by SpecialInsert.