Safety Innovation from Bollé Safety
Tryon OTG
Bollé Safety, a world leader in the design and manufacture of protective and sports eyewear, has developed the Tryon trilogy to provide the wearer with the highest levels of protection, style and comfort and at the same time offering exceptional value for money.
A new brand signature, the TRYON model comes in three versions: safety glasses, OTG and prescription glasses. Sporty design, maximum protection, non-slip adjustable bridge, PLATINUM® double sided anti-fog and anti-scratch K and N coating, co-injected sports temples and 160° Flex technology. The TRYON trilogy is the perfect combination of style, innovation and absolute protection.
Bollé Safety revolutionizes eye protection with an innovation that exceeds the requirements of all international standards, especially EN166 K and N option. The new unique and exclusive permanent double sided anti-fog and anti-scratch Platinum coating is now available on Tryon, Baxter, Rush+, Silium+, Slam+, Contour, Cobra, IRI-s B808 plus 180, Atom, Backdraft, Cobra, Coverall, Masterall, Tracker, Pilot and Ultim8 goggles. It also guarantees greater safety, reliability and comfort. This permanent coating on both sides of the lens gives them a high resistance to scratching, to the most aggressive chemicals and delays the onset of fogging. In all circumstances and at all times the Platinum lens innovation guarantees your eyes improved protection. Bolle Safety are also the first company in the world to supply all their prescription lenses with Platinum anti-scratch and anti-fog coating as standard and at no extra charge.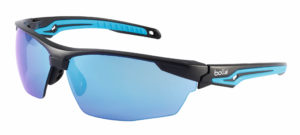 The Tryon safety spectacle is available in four lens options – clear, smoke, CSP and blue flash, which offers the ultimate protection for whatever environment you are working in.
CSP (Comfort Sensory Perception) is a revolutionary new lens coating that provides 100% protection against UVA and UVB rays and blue light. This innovative coating is an effective solution for all activities that alternate exposure to bright light and low light, while also being suitable for extreme hot and cold temperature environments. CSP is also combined with the exclusive PLATINUM double sided K and N anti-scratch and anti-fog coating that sustainably combats fogging.
The OTG (over-the glasses) provides maximum cover and has soft upper brow protection, co-injected adjustable and extendable temples to allow for precise adjustment and compatibility with all prescription glasses. The OTG is available in clear and smoke lens options.
The Tryon prescription version offers prescription wearers a stylish Base 7 wrap-around sports frame with the latest lens technology providing optimum vision. Bolle Safety are also the only company to offer a double sided anti-scratch and anti-fog K and N coating on their prescription lenses as standard at no extra charge. With a range of over 20 styles to choose from and Platinum polycarbonate double sided anti-scratch and anti-fog lenses this is the perfect solution for your prescription wearers. Also unique to Bolle Safety is the Contour the world's first base 8 prescription wrap around safety eye shield with FreeForm Digital HD safety lens technology. Based on the market leading Contour eye shield, the prescription version gives the wearer sports styling combined with safety and protection and still meets the highest European Standard EN 1661F. All this without the complication and distractions of an insert. A truly unique product. Combined with the newest pioneering lens technology, Free Form, which uses one single point diamond to customise both lenses to each individual prescription. The diamond strikes the lens 40,000 times, re-calculating every 0.01mm using CAD technology, thus creating a higher definition with a much improved peripheral vision, providing superior levels of protection.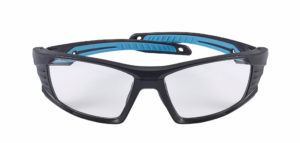 All versions of the Tryon trilogy are fully approved to the highest European safety standards and also incorporates the unique Bollé Safety Platinum lens expertise guaranteeing class 1 optical performance and quality. The lens design ensures an exceptional field of view of over 180º combined with integrated side shields and the high performance Platinum double sided anti-scratch and anti-fog coating as standard.
Bollé Safety provides an effective and innovative response to each risk. Industry, manufacturing, construction, aeronautics or the military, Bollé Safety caters to all markets and constantly improves its models with technological and ergonomic solutions to satisfy users daily. At Bollé Safety, we are constantly innovating to bring to each specific trade, effective protection solutions that are pleasant to wear. Always bearing in mind that the best protection are those that make you want to wear them, Bollé Safety is developing complete product lines that are tailored to the needs of its users.
It is our shared commitment to providing the highest quality protection for our users which is why the Bollé brand is a strong brand. Bollé Safety has been pursuing the same single objective for more than a hundred years: to detect all possible work environment risks and provide tangible technological solutions and specifically targeted treatments, that comply with the most stringent European Standards. Ultra-innovative, materials, lenses and accessories of the all Bollé Safety and Tactical ranges have a simple goal: to provide maximum comfort to users with design and performance.
FOR ALL THE LATEST INFORMATION, NEWS, IMAGES, VIDEOS AND DOCUMENTS FROM BOLLÉ SAFETY PLEASE CLICK HERE.