Nothing beats the element of quality
For 20 years now, railway operators across Europe have relied on the advanced technology and unsurpassed durability of Derby Rubber's unique broom elements to help ensure safety and efficiency across their rail networks.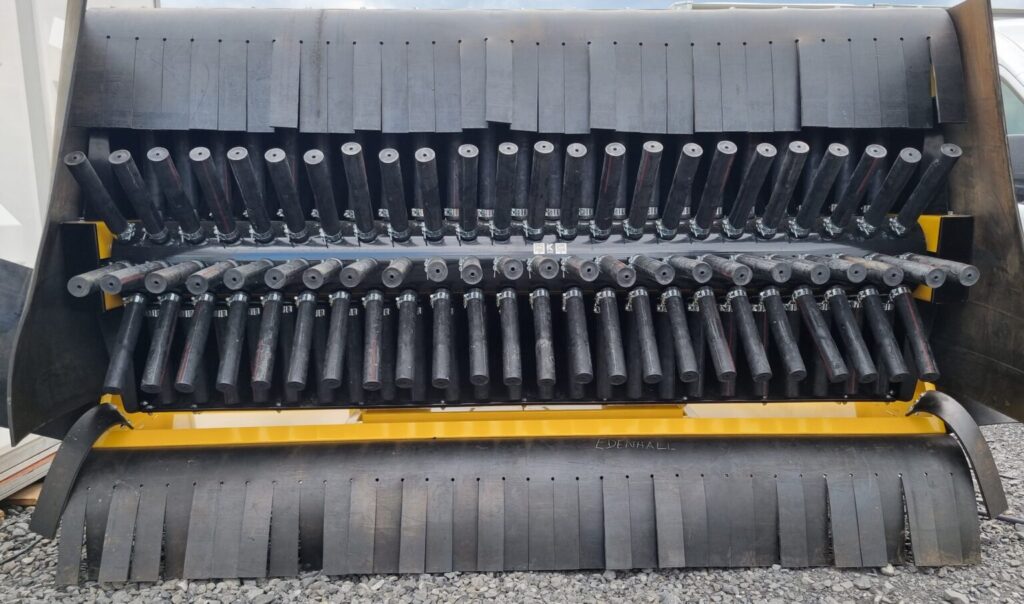 Using a combination of innovative designs, unique compound formulations and advanced production techniques, Derby has grown to become the world leader in designing and manufacturing high-grade ballast regulator broom elements capable of delivering superior performance in some of the world's most extreme environments – from the searing heat of the Australian summer to the icy winters of Finland, Sweden and Canada.
Its flagship Ballastick® one-piece broom elements are available in both hollow and solid form, each with their own unique characteristics and qualities that see them rise above their competition in reliability, durability and convenience.
Thick and Clever
Derby Rubber's hollow shafts deliver more than three times the effective lifespan of their cheaper rivals, thanks to the ingenious construction, which features a thickened, yet still hollow, hard-wearing rubber tip. This avoids the need for a glued-in plug found in lower-quality broom elements that frequently become dislodged and lead to inefficient sweeping, damaged elements and increased change-outs, often after as little as 60 kilometres.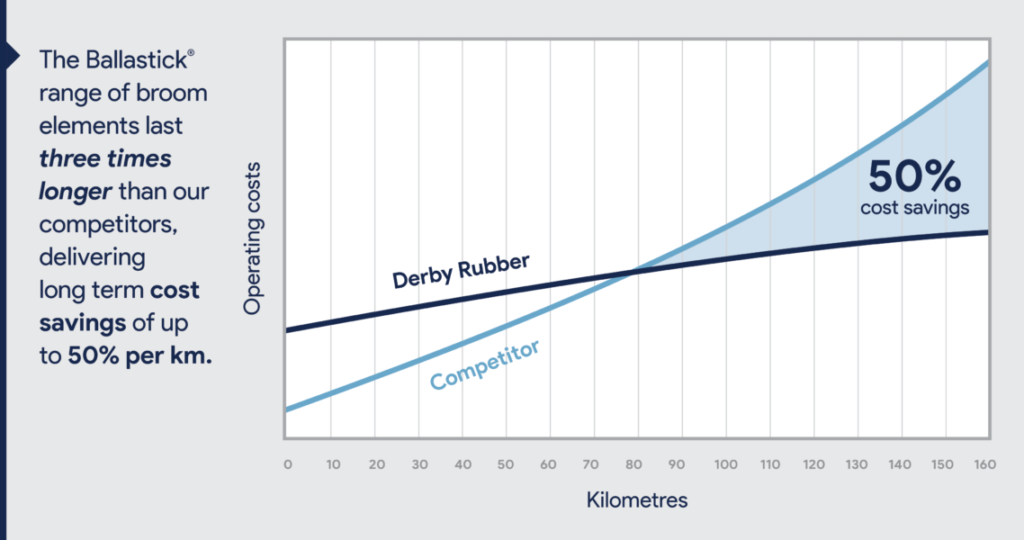 © Derby Rubber
In contrast, the hollow-form Ballastick® broom element has been shown to maintain its effectiveness and integrity even in excess of 160 kilometres of use – more than three times the capacity of imitation brands.
Solid Performance
Derby's Solid Ballastick® option is just as impressive. Easily fixed in place with a C3 Clamp to allow for quick changeovers and progressive adjustment – and featuring a distinctive flared clamp-tip to reduce 'flex fatigue' – the Solid Ballastick®'s distinctive design adds extra mass to the broom element's wear tip, thereby creating greater momentum, sweeping efficiency and wear life.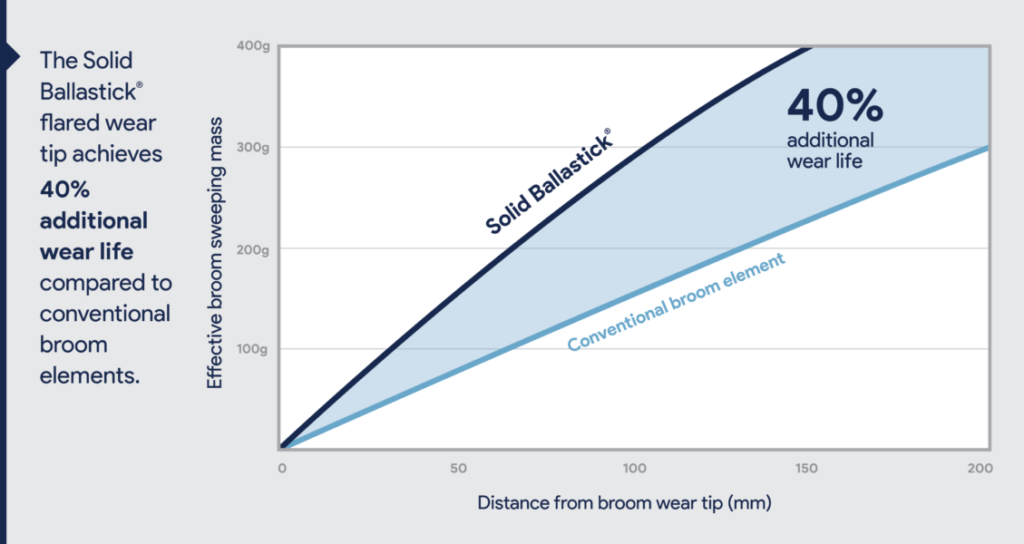 © Derby Rubber
With the advantage of Derby Rubber's state-of-the-art compound engineering, the solid-form Ballastick® element regularly achieves 40% longer wear life than conventional broom elements.
Greater Efficiencies Mean Greater Savings
When comparing performance, durability, life-span and ease of use, it's easy to see why leading rail track operators around the world prefer Derby Rubber's advanced Hollow and Solid Ballastick® broom elements.
Designed and developed to be capable of operating at peak efficiency for longer, even in severe conditions, both versions in the Ballastick® range easily surpass the durability, effectiveness and efficiency of 'cheaper' alternatives.
So, Is 'Cheaper' Really Cheaper?
As is the case with most products, a greater investment up-front will be rewarded down the track, and broom elements are no exception. In fact, the advantage of the Ballastick® elements are two-fold: longer effective service life and superior performance.
The greater durability means the elements need to be replaced less frequently, while a more efficient sweeping performance allows the brooms to sculpt, profile and neatly manicure a right-of-way with just one pass, instead of multiple passes which naturally take more time.
Since their development, Derby Rubber's specially compounded, hollow broom elements, with their thickened, high-durability tip have been shown to outlast standard hollow elements by over 200 per cent, which means fewer elements need to be purchased over time and distance.
Simply Better
The Ballastick®'s single-piece design has been shown to deliver superior performance and longevity over units that rely on a separate, glued-in plug. These are often riddled with problems as the plug can become displaced after just a few hours of operation, leading to faster deterioration of the hollow element and an imbalance in sweeping efficiency.
What's more, given the longer operating life of each broom, the downtime required to replace elements is reduced, so that sweeping equipment can spend less time being serviced, and more time keeping tracks safe and in peak condition.
Similarly, the solid version of the Ballastick® broom element also demonstrates enhanced efficiency and value for money. Its compound rubber composition has been specially engineered for the task, and the trademark flared tip improves the effectiveness of the broom by allowing for greater natural momentum and sweeping power.
Like its hollow-shaped counterpart, this greater durability reduces change-out times – and that's even before the convenience of the C3 quick-change clamp is factored-in. Designed to fasten broom elements to the rotating brush of the ballast regulator machine, the C3 makes it easier to change worn broom elements, while reducing the risk of injury to the operator.
Ultimately, it all leads to more efficient change-overs, more efficient operation, greater return on investment, less rubber wastage and environmental impact, and a safer working environment for employees – and that's probably the most important saving of all.
Derby Rubber has maintained a dedicated office and warehouse for over two decades in The Netherlands and Australia, allowing for swift servicing, customisation and supply to clients across the globe.
Derby Rubber will be exhibiting at InnoTrans Expo (20 – 23 September, Berlin, Germany) later this year.
This article was originally posted by Derby Rubber.