Preventive Cable Monitoring System MPX V3 Helps to Reduce Cable Interference
Defects in cables can lead to unanticipated signal failures and, consequently, to significant train delays. In order to prevent such unexpected interference, infrastructure operators carry out cost- and personnel-intensive inspections of cables in signal boxes and distribution systems. We offer a solution that reduces the high manual effort of preventive maintenance work.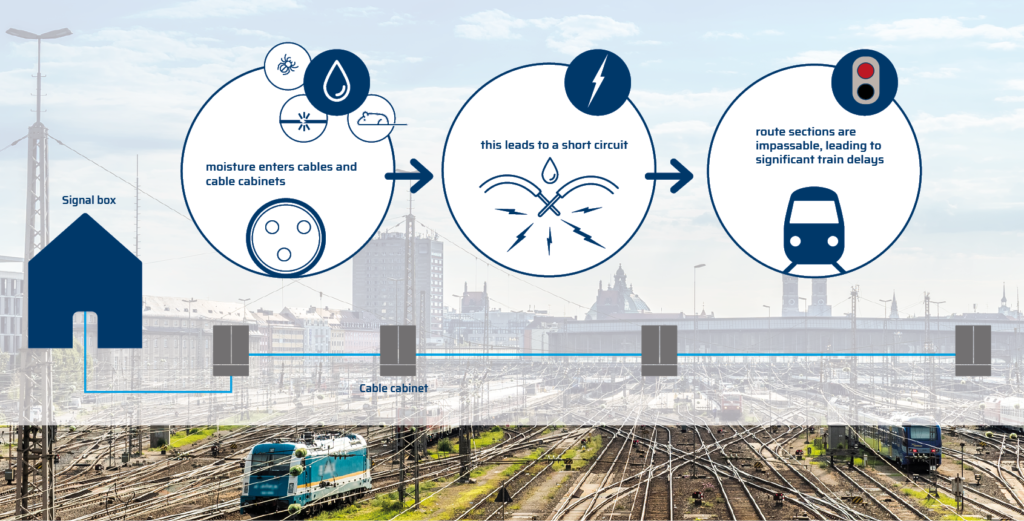 The MPX system allows early and systematic detection of declining quality of the cable infrastructure in railway systems. Through continuous evaluation of the cable quality and patented sensor technology for determining moisture in cables and distribution systems, recommendations for targeted preventive maintenance can be derived in order to intervene before failures occur.
The control unit of the MPX cable monitoring system is integrated into signal boxes. The system measures insulation values of two free cable cores both to one another and to earth. Based on these measurements, it can be determined whether and when a failure of the cable is likely. In addition, moisture values measured in the cable distribution nodes provide information about possible causes of declining cable quality. The insulation and moisture values are determined using patented sensors that can be installed in any cable distribution system.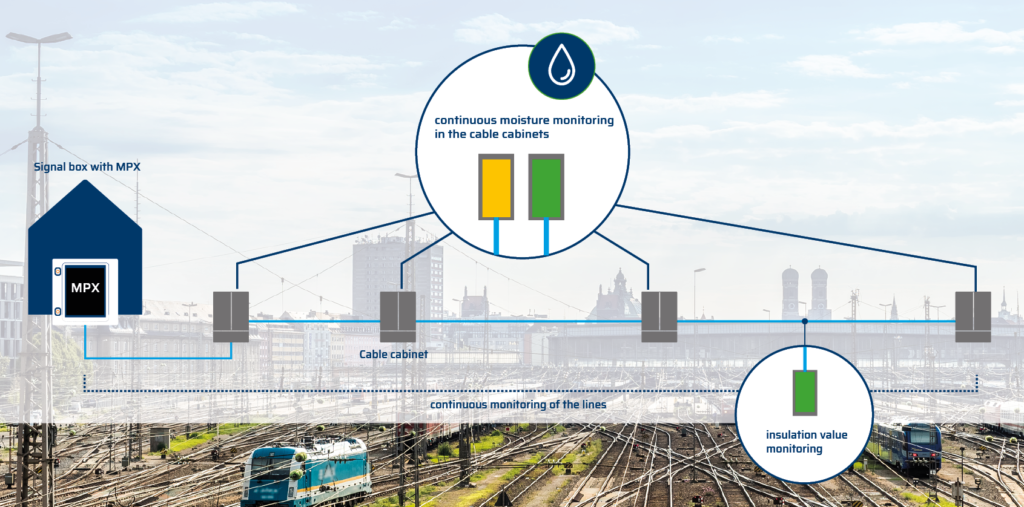 Individual Configuration
The MPX system can be configured individually according to your needs. The main unit MPX V3 can monitor and analyse up to 19 channels. Each measuring channel can consist of up to five partial measuring sections with a total length of up to 10 km per channel. A single MPX system can thus monitor up to 190 km of cable length and 95 nodes. In addition, the system has 4 monitoring lines for recording the interfering voltages acting on the cable.
Evaluation and Analysis via Various Channels
With the MPX system, you will always be in control of the status of your cable infrastructure. The measured values can be displayed directly on the 19-inch HMI of the control unit or via remote access. A LTE/WAN interface allows the system to send e-mail notifications if values fall below previously defined threshold values. Additionally, we offer a semi-annual assessment of your cable infrastructure including recommendations for action.
Your Benefits
MPX enables targeted preventive maintenance. Maintenance measures and repairs can be planned more efficiently and maintenance costs can be reduced. Moreover, the risk of train delays due to cable interference can be reduced, stabilising your network infrastructure.
Meet ZÖLLNER in person at Stand M-224 of iaf // 31 May  – 02 June 2022 in Münster // Germany
Contact us // [email protected] // + 49 431 7027 – 180