Plasser & Theurer Launch New SmartCatalog App
Modern Spare Parts Management
In addition to the printed spare parts catalogues, Plasser & Theurer now offer a modern option to find original spare parts: the new SmartCatalog app.
The app runs on smartphones and tablets with iOS or Android operating systems. On top of all the relevant information provided in the printed spare parts catalogues, it offers a range of functions that will make your spare parts management easier, faster and safer.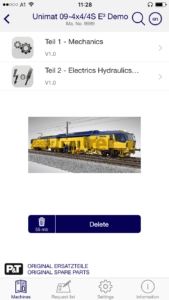 Benefits of the New SmartCatalog
• Convenient search function for quick search results
• More than 40,000 photos ensure clear part identification
• Integrated inquiry list for direct inquiries
• Prevents transcription errors
• Easily updated by downloading new versions
• Available online and off-line
Convenient Search Function for Quick Results
The SmartCatalog's structure is based on our printed spare parts catalogues. As a result, you can search for spare parts as usual. If you wish to find parts in less time, you can use the convenient search function offered by the new app. Enter the part number, IT number, title or spare parts sheet number and the system will automatically show the required parts.
40,000 Product Photos Ensure Clear Part Identification
In addition, the app shows more than 40,000 spare parts photos. This makes it easier to identify the required parts. You can rest assured knowing you have selected the right parts.
As we constantly expand the photographic documentation of our spare parts, we will be able to provide you with even more photos in future.
Integrated Inquiry List: Use the App to Directly Inquire About Parts
An inquiry list has been integrated into the new app. It allows you to compile the selected parts and to send them directly to your company's procurement department or to your service partner at Plasser & Theurer. This makes it possible to inquire about parts more quickly and safely. Moreover, this prevents typos that can occur when copying the information from the printed catalogue.
Automatic Update: Always Stay Up to Date
Your SmartCatalog exclusively provides spare parts relevant to your machines. The respective data is made available for your smartphone or tablet. If the catalogue is amended, an updated version will automatically be made available for download. Compared to the spare parts handling using printed spare part catalogues, this saves time and effort. At the same time, you can rest assured knowing you always have access to the latest information.
Your data is also available off-line. Online access is only necessary when downloading, updating or sending inquiries.
Order Now: For Standard Machines Built as of 2006
The new SmartCatalog app is available for all standard machines built as of 2006. Like our printed catalogues, the app is available in several languages.
How to Get the App
Download the app from the app store and send a registration request. After approval, we will send you a download link with your access data.
For more detailed information on the new SmartCatalog app call +43 732 7666-377 or send an email to [email protected]. You can also use the above contact details to order the app for your company.
FOR ALL THE LATEST INFORMATION, NEWS, IMAGES, VIDEOS AND DOCUMENTS FROM PLASSER & THEURER, PLEASE CLICK HERE.